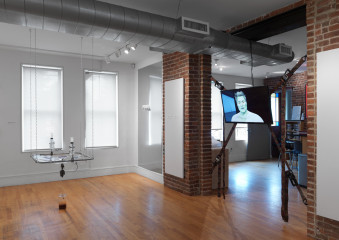 December 2, 4:00 PM–5:30 PM
Franklin Street Works presents a free, public media studies panel at the Ferguson Library Main Branch on December 2 from 4-5:30 followed by a wine reception at Franklin Street Works from 5:45 – 7:00.
Join Franklin Street Works for a panel that welcomes nationally respected scholars and journalists to Stamford to discuss media and journalism today. We will explore media studies topics that connect to some of the themes of "False Flag: The Space Between Paranoia and Reason," including alternative facts, false flags and more.
Panelists are: Brooklyn-based artist Alexandra Bell, who has exhibited at PS1 and often explores media in her work; Jack Bratich, Ph.D., who is an Associate Professor in the Dept. of Journalism and Media Studies at Rutgers University and has published five books, contributing chapters to dozens of others; Journalist Alexandria Neason, who is a Columbia Journalism Review staff writer and formerly a reporter for the Village Voice, will bring an on-the-ground perspective to the panel; Connecticut-based artist and college professor Jeff Ostergren will connect larger themes to his curation of False Flag will discuss how contemporary art can provide alternate perspectives to dominant  narratives.
We are excited to partner with the Ferguson Library on this timely event! Stay tuned for updates on panel themes and more. RSVPs are not necessary but they help us plan. Please RSVP to info@franklinstreetworks.org.