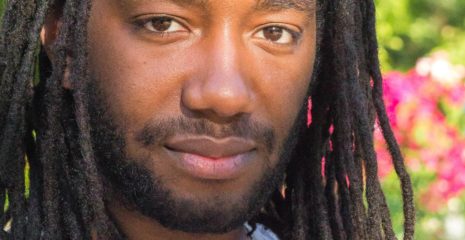 December 1, 5:00 PM–7:00 PM
Poetry Salon with Sara Elkamele, Jan-Henry Gray, and Malcolm Tariq!
Sunday, December 1 from 5-7 pm, poet and curator Danilo Machado is organizing a poetry reading at Franklin Street Works featuring three poets who consider erasure as part of their practice. Poets will include Sara Elkamele, Jan-Henry Gray and Malcolm Tariq (pictured). Sara Elkamele's writing has appeared in The Common, The Rumpus, American Chordata, and Winter Tangerine, among others. Jan-Henry Gray's book Documents is part of  the "Otherwise Obscured: Erasure in Body and Text" gallery library, and Malcolm Tariq's book Heed the Hollow is  forthcoming from Graywolf Press.
Sara Elkamel is an arts journalist and poet based between New York City and Cairo, her hometown. She holds an MA in arts journalism from Columbia University and is currently pursuing an MFA in poetry at New York University. Her writing has appeared in The Common, The Rumpus, American Chordata, Winter Tangerine, Nimrod International Journal, as part of the 'Halal If You Here Me' anthology (Haymarket Books, 2019) and elsewhere. She has facilitated various writing workshops, including in Cairo, Alexandria, Sinai, Amman and Wadi Rum, which have focused on subjects integral to her own practice, among them: the relationship between text and the body, between memory and language, the notion—and physicality— of pilgrimage, and the roles questions can play in poetry.
Jan-Henry Gray was born in Quezon City, Philippines, and moved to California with his family when he was six years old. He lived undocumented in the U.S. for more than 32 years. He received his BA in Creative Writing from San Francisco State University and his MFA in Poetry from Columbia College Chicago. He is the recipient of the inaugural Undocupoets Fellowship, the 2014 Jack Kent Cooke Graduate Arts Award, the Juniper Summer Writing Institute Fellowship, and the 2016 Lannan Prize from the Academy of American Poets. His work has appeared in The Rumpus, Poetry Foundation, Poets.org, Tupelo Quarterly, Colorado Review, Fourteen Hills, New City, Puerto del Sol, Southern Humanities Review, Nepantla: An Anthology Dedicated to Queer Poets of Color, and other journals. He lives in Chicago with his husband, where he writes and co-hosts events featuring writers, performers, artists, and musicians.
Malcolm Tariq is poet and playwright from Savannah, Georgia. He is the author of Heed the Hollow (Graywolf Press, 2019), winner of the 2018 Cave Canem Poetry Prize, and Extended Play (Gertrude Press, 2017). Malcolm was a 2016-2017 playwriting apprentice at Horizon Theatre Company and was a finalist for the 2018 Princess Grace Fellowship with New Dramatists. His plays have been developed by Working Title Playwrights and Brave New World Repertory Theatre. He has received fellowships from Cave Canem and The Watering Hole. A graduate of Emory University, Malcolm has a PhD in English from the University of Michigan. He lives in New York City.
This free, public program is part of Franklin Street Works original exhibition, "Otherwise Obscured: Erasure in Body and Text," curated by Danilo Machado. The show is on view from September 21, 2019 – Jan 26, 2020, and examines the relationships between the erasure of text through redaction and illegibility and the erasure of bodies through policy and violence. One of the aims of the show is to blur distinctions between obscuring and revealing, showing how acts of erasure can subvert notions of authority. The group of intergenerational artists presented engage with a range of source materials—including government legislation, museum catalogs, and archival photography—to create work in video, audio, performance, poetry, and other media.  Artists include: Bahar Behbahani, Hannah Black, Jesse Chun, Noelle de la Paz, Joey De Jesus, Alex Dolores Salerno, Francisco Eraso, Jr., Noah Fox, Harmony Hammond, Tony Lewis, Ana Mendieta, Oscar Muñoz, Niina Pollari, Pope.L, Wendy Red Star, and Jennif(f)er Tamayo.
Photo (detail): Malcolm Tariq by Karisma Price