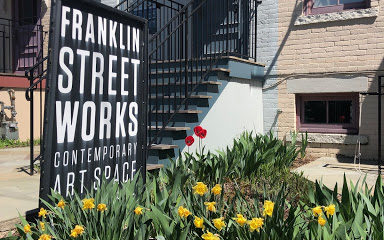 June 29, 12:00 PM–12:00 AM
For now, in keeping with state and regional recommendations during the COVID-19 crisis, Franklin Street Works is closed.
All of our educational and accessibility programs for Roots & Roads have been cancelled through the run of the show.
We've been adjusting and will be sending e-blasts with updates soon. Keep an eye out as we feature a different current exhibiting artist on our website each week and please continue to follow FSW on social media.
Please explore the exhibition catalog and installation photos to learn more about our current show, "Roots & Roads," which is curated by guest curator Anita N. Bateman.
We'll see you in your IG scrolling and encourage you to keep up that 6-foot-apart strolling. Continue to support artists and arts organizations as you can. Artists are early imaginers, keen observers, world builders, and thought leaders. The world will need their smarts and heart for whatever the "new normal" will bring.
We are in solidarity with all of those in the arts who are furloughed or who have lost their jobs. A special shout out to the many museum educators and visitor services employees as well as those in facilities and maintenance who were terminated due to COVID.
Stay safe, stay in touch, and more soon.