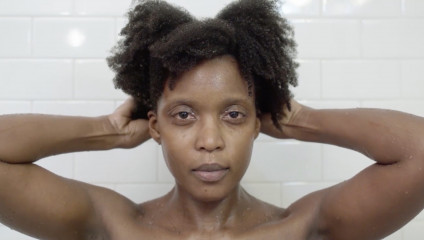 May 3, 2:00 PM–4:00 PM
Join Roots & Roads curator Anita N.Bateman and exhibiting artists Adama Delphine Fawundu and Nafis White for a free, public exhibition walkthrough on Sunday, May 3 from 2-4pm.
Bateman will introduce her group exhibition Roots & Roads, discussing the inspiration for the show, her curatorial process, and more.
Adama Delphine Fawundu will talk with us about her film the cleanse, which is inspired, in part, by the artist's Mende heritage. (The Mende is an ethnic group hailing from various parts of West Africa). She explores how Mende culture has shape shifted within the African Diaspora despite the horrific societal disruptions such as colonialism and Transatlantic Slave Trade.
Artist Nafis White's Roots and Rows series of photogravure prints inspired the title of the show and explore what White describes as "the varied hairstyles found within Black culture worldwide, and personally inspired by the Black women in my family…" Nafis White will also discuss her sculptural wall works Cumulus #7 and Oreo, mixed media works that incorporate cotton bolls, fiber, calyx, beads, and crystals.
This event is sponsored by the Stamford Arts & Culture Community Arts Partnership Program.
Anita N. Bateman is a seventh year PhD candidate in the Art, Art History & Visual Studies department at Duke University who specializes in modern and contemporary African art and art of the African diaspora. Under the supervision of Professor Richard J. Powell, she is writing a dissertation entitled "Ethiopia in Focus: Photography, Nationalism, Diaspora, and Modernization." In it, she examines the photography of Ethiopia and Eritrea in the context of nationalism, Italian imperialism, and the influence of Marxism-Leninism. Conjointly, she attends to Ethiopia's current status as a center of art and the ways in which Habesha and Oromo ethnic groups are represented in images and social media. Anita was the Andrew W. Mellon Curatorial Fellow in the Prints, Drawings, and Photographs department at RISD Museum from 2017-2019, and has held positions at the Williams College Museum of Art, Williamstown, MA, and at the Nasher Museum of Art in Durham, NC.
Adama Delphine Fawundu is a photographer and visual artist born in Brooklyn, NY to parents from Sierra Leone and Equatorial Guinea, West Africa. With over fifteen years experience working as a photographer, Fawundu completed her MFA in Visual Arts from Columbia University in 2018. She now uses photography, printmaking, video, sound and assemblage as an artistic language. Fawundu co-founded and independently published the sold-out book MFON: Women Photographers of the African Diaspora.  In recognition of her artistic practice, she was nominated for and won the Rema Hort Mann Emerging Artist Award, named OkayAfrica's 100 Women making an impact on Africa and its Diaspora and included in the Royal Photographic Society's (UK) Hundred Heroines, in 2018. Fawundu has exhibited internationally, with two solo shows in 2019 at the African American Museum in Philadelphia and Crush Curatorial gallery in Chelsea, NYC. Her work has been reviewed in publications and media outlets such as Time magazine, The New York Times, Vogue Online, The Washington Post, the BBC World, and more. Fawundu's works can be found in the private and public collections such as the Brooklyn Museum of Art, The Brooklyn Historical Society, The Norton Museum of Art, Corridor Art Gallery, The David C. Driskell Center at the University of Maryland and The Museum of Contemporary Art at the University of São Paulo, Brazil.
Nafis M. White is a multidisciplinary conceptual artist whose work mines complex narratives around objects commonly found in beauty supply stores, in nature, on industrial sites and the seemingly limitless horizons of our global and political landscapes. Through sculpture, installation, photography, found objects and weaving she centers the uncanny audacity of self-affirmation and love by means of repetition as a form of change. White's work is in the permanent collection of the RISD Museum and University of New Mexico Art Museum, and has been exhibited at Autograph ABP, Goldsmiths University and OXO Tower in London, Overture Center for the Arts Madison, The de Young Museum, Root Division among many others. White holds an MFA and BFA from the Rhode Island School of Design in Sculpture, Printmaking and Digital Media with a Concentration in Art History. She lives and works in Providence, Rhode Island.