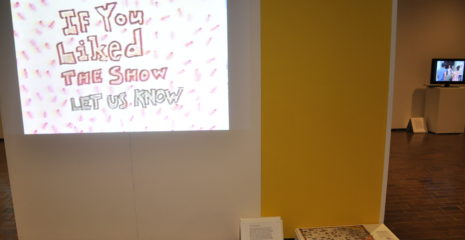 February 9, 5:00 PM–8:00 PM
Franklin Street Works will celebrate the opening of "Collective Action Archive: Redux" with a free, public reception on Saturday, February 9 from 5:00-8:00pm.
Franklin Street Works exhibition "Collective Action Archive: Redux," is the newest addition to our ongoing exploration of intersections between art and activism. It is the 2.0 version of the collaboratively curated exhibition, "Collective Action Archive," which was exhibited at the Passage Gallery on the Purchase College, SUNY campus in 2013. That show was co-curated by Franklin Street Works' Sandrine Milet and Terri C Smith in collaboration with students and faculty from the Media Studies Department at Purchase College. It featured materials gathered from artist/activist collectives, and, after the show, its contents were accessioned into the Purchase College Library archive, becoming a resource for students and scholars.
"Collective Action Archive: Redux" is curated by Franklin Street Works creative director Terri C Smith and will feature materials from the Purchase College Library's archive along with new items loaned from collectives that have formed since 2013. In the spirit of a living archive, new contributions will be added throughout the exhibition's run. On view at Franklin Street Works from February 9 – September 8, 2019, the show will open with a free, public reception on Saturday, February 9 from 5-8pm.
Photos, videos, artworks, pamphlets and texts by more than 3-dozen artist/activist collectives hailing from across the United States will be on view, including contributions from longtime collectives such as ABC No Rio, the Guerrilla Girls, Paper Tiger TV, subRosa, and Temporary Services. Programming for "Collective Action Archive: Redux" will be robust and will include: talks by exhibiting collectives; informal presentations by regional activist organizations; and discussion groups about the, often contradictory, relationship between social activism and the arts.
Exhibiting artist/activist collectives include: ABC No Rio, Artists Against Apartheid, Big Tent, Codify Art, Conflict Kitchen, Critical Making, fierce pussy, Floating Lab Collective, Futurefarmers, Ghana ThinkTank, Guerrilla Girls, Guffey Hollow, Howling Mob Society, Illegal Art, Just Seeds, Kitchen Sink, Knifeandfork, Lucky Pierre, M12 Collective, Meme Rider Media Team, National Bitter Melon Council, Okay Mountain Collective, Paper Tiger TV, Philly Stake, Preemptive Media, Publication Studio, RAGGA, Regional Relationships, Second Front, Students of the African Diaspora, subRosa, Temporary Services, The Pinky Show, W.A.G.E., and Work Progress Collective.