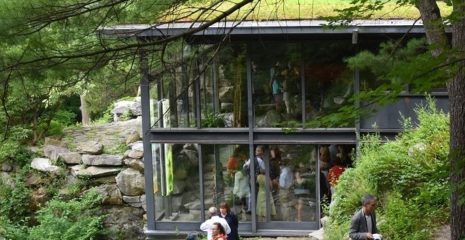 October 26, 1:00 PM–2:00 PM
Join us on Saturday, October 26 from 1:00 – 2:00 pm for the next Art Engaged Member trip.  We will visit Manitoga, the former home, studio and woodland garden of U.S. industrial designer Russel Wright. This tour will be an immersive experience, as well as the opportunity to learn about the benefits and challenges that come with infusing a historic place with contemporary voices.
The tour will be followed by wine and savories at a nearby private home. RSVP required. 
To RSVP or to find out how to become an Art Engaged Member email: carole@franklinstreetworks.org or sign up HERE
More about Manitoga from their website:
Located in Garrison, New York, approximately one hour north of New York City, Manitoga is the former home and 75-acre woodland garden of American industrial designer Russel Wright (1904-1976). Manitoga is a National Historic Landmark, an Affiliate Site of the National Trust for Historic Preservation, and one of the few 20th century modern homes with original landscape open to the public.
Manitoga/The Russel Wright Design Center stewards Manitoga as the embodiment of Wright's design philosophy and life's work and celebrates good design for living in creative harmony with nature through tours, programs, events, and free year-round access to woodland trails. READ MORE
ACCESSIBILITY INFORMATION:
The visit is a walking tour which takes place both outside in the landscape along our Quarry Pool Path (a trail lined with loose wood chips that includes a set of 40 + stone steps with no railing), the House and Studio which both include uneven walking surfaces and some stairs, and finally the trail back to the Guide House which includes another small set of stone steps with no railing and a stepping stone section across the Quarry Dam. Groups that include participants with physical limitations, particularly balance issues, should carefully consider the conditions at Manitoga prior to booking a tour.
WHAT TO EXPECT:
Tours begin with a short film about Wright's life and design legacy. Visitors then follow the upper Quarry Path to Dragon Rock. Along the way, the tour features stunning views of the House and Studio, an ascending stone staircase, a field of mountain laurel, and the exquisite moss room. Visitors approach Dragon Rock by crossing the majestic waterfall via a wood plank bridge. Interior spaces are defined by expanses of glass, innovative materials use, and seamless connections to outside terraces. The Tour concludes by following a stepping stone path over the Quarry Pool dam to the Visitor/Guide House. Tours last 90 minutes and are conducted rain or shine.
PREPARE FOR MODERATE HIKE:
Please come prepared for the moderate hike portion: wear sensible walking shoes and dress appropriately for the weather, including bug spray and sun screen as needed. Visitors must be at least 5 years old and able to negotiate uneven ground, several bridge crossings with no handrails and a series of 40 stone steps. PLEASE NOTE: Pets, backpacks, large bags, tripods, extension poles and selfie-sticks are not permitted.