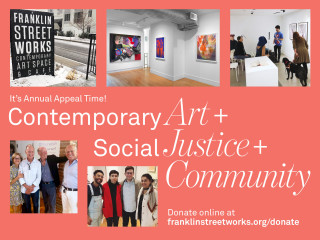 January 1, 5:00 PM–6:00 PM
Franklin Street Works is a nonprofit art space that relies on donations. Please consider us in your year end giving – no donation is too small … or too big!
Here's more information on why we are an amazing value add to the region and to the arts!
Museum-CaliberOriginal Exhibitions
Franklin Street Works provides a platform and support (fiscal and professional) for many now-well-known artists early in their trajectories: among others Trisha Baga, David Horvitz, Juliana Huxtable, Virginia Lee Montgomery, and Contantina Zavitsanos. Emerging artists often are in exhibitions with recognized mid-to-late career artists. In addition to our support of emerging artists, our shows have included notable artists from the contemporary art history canon, including Chris Burden, Jeremy Deller, Lorraine O'Grady, Rashid Johnson, Carolee Schneemann, and Andy Warhol.
Social Justice: We Have a Point of View
Our exhibitions are visually compelling and engaging while also exploring themes such as immigration, LGBTQ+, economic inequality, labor, and the environment. We amplify artist and curator voices whose works speak about marginalized perspectives.
Something for Everyone
Our programs run the gamut from free and accessible community programs to membership offerings. We offer more than 30 free programs a year: Our popular garden series, artist forums, poetry salons, author talks, and more.
We're accessible! We have an ADA compliant entry ramp, and thanks to a new CT state grant, we offer ASL, Spanish-language, and verbal description tours.
Art Engaged membership is the best membership program for people who love art, artists, collecting, conversation, and backstories. Membership is $250 for a year of outings and thought-provoking discovery.
We're all in this together: We strive to highlight the essential relevance of artists to reflect and interpret humankind and everyday life. Artists, patrons, visitors, curators…we are all are vital stakeholders, each playing a distinct, different, and critical role.
History of Franklin Street Works
In 2002, Stamford attorney Kathryn Emmett began to develop Franklin Street Works when she jointly purchased four Victorian-era townhouses that had survived multiple waves of urban renewal. Two became her law office and two were repurposed as a gallery and cafe. The daughter of an actress and screenwriter, Emmett experienced neighborhood coffee shops when growing up in NYC's Lower East Side. She felt Stamford needed a similar community gathering spot and cultural hub. In 2003 FSW became a nonprofit and, in the next five years, Emmett renovated the building, hired founding creative director Terri C Smith, built a board, and opened to the public in 2011.
Award-Winning Art Space in Stamford
This hub continues to reflect our vision that art is part of a larger social enterprise and thereby serves as a catalyst for social action; both the individual artist and our communities are vital partners with us. We expand our audiences through vigorous programming outreach to community groups, arts-interested individuals, area educators, nonprofit organizations, and more. Since its founding, FSW has become an award-winning contemporary art space, generating 33 museum-quality exhibitions and working with 300 internationally exhibiting artists. Inclusive and welcoming, FSW has no admission fee and free, public educational programs.