Hours/Contact Information
The Café at Franklin Street Works is a destination for coffee, casual lunch, brunch and friendly gatherings.
Closed Monday
Tuesday – Friday: 10am-5pmSaturday and Sunday: 9am – 5pm
Phone: (203) 595-5581      41 Franklin Street, Stamford, CT 06901
(just down the street from UConn – Stamford)
The space is available for rental for special events.
Order online at:
https://squareup.com/market/franklin-street-works-cafe
About the Café
The Franklin Street Works Café is an important part of Franklin Street Works vision to create a social space around contemporary art. The café, now celebrating it's two year anniversary of a new farm-to-table inspired menu created by Chef Erin Emmett of Sweet Pistachio features a vibrant and seasonal menu that highlights locally sourced ingredients and even fresh vegetables and herbs from FSW's Backyard Garden. The café's creative menu and friendly staff ensures that the eating experience is as artful as exhibitions themselves.  
Franklin Street Works baristas provide visitors with handcrafted espresso drinks in addition to a rotating daily drip coffee and a cold brew iced version, featuring coffee from Irving Farm Coffee Roasters. The café also offers premium wine and regionally brewed craft beer. The Café's from-scratch menu includes signature sandwiches like the grilled sweet manchego panini with fig jam and sopressata. For a snack or light lunch, toasts will be offered; including smashed avocado toast with lime and chili flakes. Salads include Arugula, kale, and daily Grain Salad as well as a Southwestern cobb with black beans, jack cheese, avocado, bacon, and chipotle lime vinaigrette.
Chef Emmett also brings her sweet side and background as a pastry chef to Franklin Street Works in the form of and her Sweet Pistachio baking company. Daily baked scones, muffins, hand pies, cookies, and her soon-to-be-famous house made granola. Sweet Pistachio's signature macaroons in such varieties as salted caramel, earl grey, and of course, pistachio are also available. Brunch includes a quiche of the day, brioche bread pudding, roasted vegetable frittata, breakfast wraps and Mimosas.
Partnerships with Farmer's Cow and Fairgate Farms ensure that all of the ingredients are local and fresh.
Call in your order or order online on squareup.com
(203) 595-5581
Select delivery is available.
Sweet Pistachio Events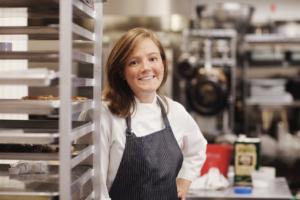 As the exclusive, full-service in-house caterer for Franklin Street Works, Sweet Pistachio offers a wide array of seasonally inspired and carefully crafted menus for all events big and small.
While Sweet Pistachio is based in Williamsburg, Brooklyn and specializes in bite-sized dessert catering for events, Chef/Owner and Stamford native, Erin Emmett is happy to provide all on-site catering services to the private events at Franklin Street Works!  With over 12 years in the restaurant industry, Erin trained and worked in some of the best restaurant, pastry and catering kitchens in San Francisco, Las Vegas, Paris and New York (Michelin starred, Alize, Knipchildt Chocolatier, Vandaag NYC, Chantal Guillon Macarons & Componere Fine Catering to name a few).   Being largely influenced by the farm-to-table culture in both San Francisco and Paris, Erin's culinary style is clean, bright and creative with a focus on fresh flavors and a playful presentation.  At Franklin Street Works, Erin and the teamwork intimately with each client to create a custom menu which incorporates the finest, locally sourced ingredients to fit your event's unique concept.  Whether the vision is a quiet farm-to-table dinner on the patio with friends, a company happy hour or a large cocktail party with passed hors-d'oeuvres and an impressive cheese spread, Sweet Pistachio aims to exceed every expectation.  Interested in event catering services outside of Franklin Street Works?  For more information, please visit www.sweetpistachio.com
"Lunch Engagement: First Friday Exhibition Tours"
At Franklin Street Works visitors can have a delicious house made lunch in our café before or after viewing our award-winning art exhibitions. On the first Friday of each month your lunch can include a twenty-minute tour of a thematic, group exhibition with FSW creative director, Terri C Smith. If  you are new to contemporary art and want some guidance in understanding the work or if you are someone who loves to learn more about exhibitions you enjoy via a curator tour, first Fridays are your Fridays! The October 6th tour will be for "I hear it everywhere I go," which aims, in part, to explore the unconscious ways dissatisfaction about and pursuit of the "American Dream" are expressed, including the tendencies to scapegoat those perceived as less fortunate and the building up and tearing down of the powerful and famous.  "Lunch Engagement" tours are free and open to the public. Drop ins are welcome but RSVPs help us plan.
12:30 on the First Friday of each month starting October 6th
Venue Rental
Host your next gathering in our contemporary art space, café and/or back terrace.
Perfect for:
Company Cocktail Hours
Birthday Parties/showers
Corporate Breakfast Meetings
Private Outdoor Events
Fundraisers
Team Building Events
Capacity:
Capacity in Galleries and/or on back terrace: 100 - 120 with an extra 60 outside, exhibition dependent.
Metered street parking available as well as garage parking at Target
What We Can Offer:
Catering and staff available on site - breakfast, lunch, brunch and cocktail style dinner by the bite menus available
Local craft beer, wine and champagne selections available for service
Curator-led tours of the galleries