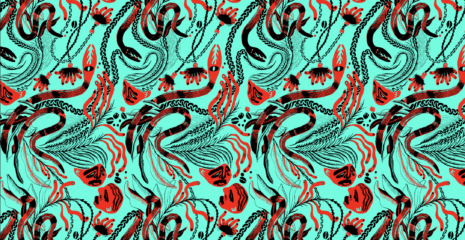 February 8, 4:00 PM–7:30 PM
A Litany is a commissioned performance by artist Nadia Wolff. The artist will give the performance at the opening reception where party goers can drop by and view the artist as they cornrow and weave a braided / woven basket structure onto a model's crown. The model will wear a garment constructed from silkscreened fabrics, the patterns of which the artist has developed.
These patterns feature Haitian Vodou religious motifs, illustrations of hair braiding, beauty supply flyer text and products, and barber shop charts. The patterns' compositions are inspired by the long tradition of "vine structure" patterns which utilize imagery from nature, particularly foliage, to create dense visual surfaces. Referencing the Egungun masquerade tradition, this garment riffs off of the traditional beauty salon/barbershop cape on a grander scale, as the size of the garment drapes expansively, and overwhelms the floor surrounding both artist and model. When the piece is not activated in performance, the garment is to remain draped over a salon chair.
A Litany considers the link between the hand and the body; of the politics of labor within craft and adornment, meditating on the action of braiding as a particularly potent moment of Black intimacy often experienced and performed between femmes, mothers and daughters, that is viscerally queer in its eroticness.  In combining basket weaving with hair braiding, A Litany illustrates connections between these frequently gendered modes of work. Initially inspired by the practice of women and children piling materials high upon their crown in order to transport items, this piece aligns imagery and textile traditions from Black diasporic– particularly Haitian and Yoruba– religious performance and art with commonplace gestures of braiding, craft making, and transport of goods.