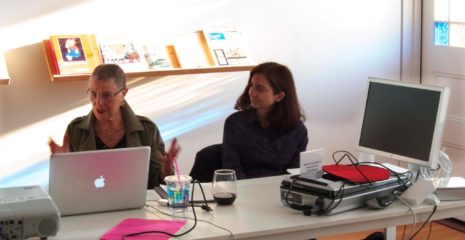 April 25, 6:00 PM–7:30 PM
Please join Franklin Street Works for the launch of its "Across Disciplines" program on Thursday, April 25 from 6 – 7:30 pm. Across Disciplines features regional artist Phyllis Synrich talking about her work alongside sociologist Ingrid Semaan. Sinrich discusses her series of photographs titled "Mannequins: A Parallel Universe" with Semaan, who is the director of UConn-Stamford's Women's Gender and Sexuality Studies department.   
Semaan with explore Sinrich's series from the perspective of female identity in concert with advertising, fashion, and consumption. This free, public, event provides additional opportunities for regional artists and thinkers to share their work with the public, while paying close attention to the fluid relationships between the visual arts, the humanities, and popular culture.
Phyllis Sinrich's portfolio of mannequins includes more than twenty images from her travels in countries such as Hungary, France, Italy, Turkey, Croatia and the United States. According to the artist, the facial expressions, postures and individuality of the mannequins is what has kept her intrigued and transfixed, explaining "it's fascinating to note both the similarities and differences that are manifested through each society's mannequin 'population'". "Mannequins: A Parallel Universe" is part of Phyllis Sinrich's solo exhibition, The Thrill of Discovery, at The Gallery at Bistro Latino in Old Greenwich, CT, on view through April 30.
ABOUT PHYLLIS SINRICH
In 2001 Phyllis Sinrich turned a passion for photography — which had been a hobby since childhood — into her "third life." Her work is exhibited regularly in juried shows in the area, most notably the annual Faber Birren National Color Award Show at the Stamford Art Association, where she has won several sponsored awards over the years. In 2003 one of her abstract images was a First Place winner in the Atlanta Journal-Constitution Annual National Photo Competition. Her work has also been shown at other venues such as the Katonah Museum of Art in Katonah, NY; Silvermine Guild Arts Center in New Canaan, CT; the Edward Hopper House Art Center in Nyack, NY; the Fairfield Museum and History Center, the Quick Center of the Arts, and the General Electric World Headquarters, all in Fairfield, CT.
ABOUT INGRID SEMAAN
Ingrid Semaan is a committed feminist activist who has worked on campaigns against violence against women and for reproductive rights, workers' rights, and peace and justice in the Middle East.  Ingrid received her Ph.D. in Sociology in 2006 from the University of Massachusetts-Amherst. She teaches in Sociology and Women's, Gender, and Sexuality Studies, and she is the Director of Women's, Gender, and Sexuality at the University of Connecticut-Stamford.  Her research interests include gendered violence, the battered women's movement, and health disparities.