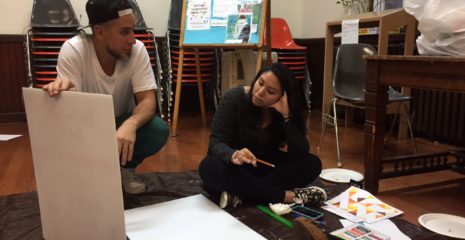 October 30, 1:00 PM–5:00 PM
Join artists Pedro Felipe Vintimilla and Julian Phillips for an A.I.M. inspiration workshop designed by Vintimilla and documented with video and photography by Phillips on October 30 from 1:00 – 5:00pm at St. Andrew's Episcopal Church (1231 Washington Blvd, Stamford, CT 06901). A.I.M. (Artistic Inspiration Methods) is a four-hour workshop that brings together activists and artists in a series of experimental physical, writing and drawing exercises as a starting point for stimulating inspiration and creativity. To sign up email info@franklinstreetworks.org.
While the event is open to the public, Franklin Street Works has invited activist organizations they've worked with in the LGBTQ and Immigrant Rights communities to join the artists and create a visual tool kit they can use in their public sphere activist work. Both artists are currently MFA students at Queens College Social Practice Queens Program, and the workshop is organized by Franklin Street Works as part of it's November 12th fundraising event "Art Activism: Celebrating Socially Conscious Art."
During the workshop, participants will reflect on their personal experience, their relationship with society, and their life of activism. Participants will be encouraged to bring a personal object that represents their past or childhood as a point of departure. Those in attendance will be introduced to elements and principles of artistic production in order to streamline ideas and visually channel their goals, concepts, and vision. The artists will create a creative environment that encourages finished products such as masks, posters, murals and more to be completed during the workshop.
In addition to living on as materials for public activist events, the objects and artworks produced, along with Phillips' video artwork inspired by the event, will become part of the exhibition area at Franklin Street Works' benefit party, which is themed around activism and will honor three activist artists Andrea Bowers, Chitra Ganesh and Mariam Ghani. This thematic exhibition at the benefit party site will bring the important work of local activist groups to a new audience, connecting art and activism in an organic, grass roots manner. After the party, the banners, signs, and murals will be returned to the activist groups who made them for future activities.
Project documentation will be in the form of photography, and video and audio recording. The purpose of this will be to capture the sense of the creative process the participants' experience. Only participants who agree in writing to be part of the documentation will be included in Julian Phillips' multimedia artwork.
ABOUT A.I.M.
A.I.M. Inspiration's mission is to promote, through art, a society reflective of its reality and sensitive to its surroundings. In which individuals can find their own space and can recognize themselves as members of the collective. A.I.M. Inspiration is built in four fundamental concepts: sensibility, ingenuity, collaboration and experimentation. Participants are encouraged to allow themselves at each stage to step out of their comfort zone and experience these concepts in order to stimulate a flow of creative ideas. A.I.M. is an organization started by Pedro Felipe Vintimilla, who received bachelor degrees in communications and visual arts in Ecuador and the U.S., is a multidisciplinary artist based in New York City.
ABOUT JULIAN PHILLIPS
Julian Louis Phillips is a New York based artist and photographer. He primarily inquires about social issues through, photography, video, and performance. The themes of race, identity, poverty, and religion are throughout his work. Generally his questions seek to find the persisting nature of societal problems and its constructs. Julian graduated from Saint Joseph's University, throughout the northeast.