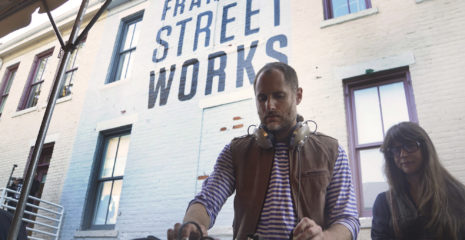 September 22, 5:00 PM–8:00 PM
Join us for Intersections: Celebrating Feminist Voices on September 22, 2018, from 5:00 – 8:00pm. We will be honoring artist Trisha Baga and Ingrid Semaan, Director of Women's, Gender and Sexuality Studies, UConn – Stamford. The DJ team of Artist Emily Larned and Producer Chris Ruggiero will spin vinyl again this year, adding a femme theme fitting for the occasion! Fulfilling culinary experiences are promised with dinner by the bite by Sweet Pistachio. Drinks will include red and white wine, beer and a special Tito's vodka cocktail.  Tickets start at $65, discounted tickets for FSW members and students start at $60. You can purchase tickets HERE.
The party will include silent auction items that range from imaginative art experiences like a studio visit with Laurel Sparks to original artworks, featuring works by Yael Bartana, Anne Cousineau, Lukas Geronimas, Richard Klein, Carrie Moyer, Leslie Wayne, and Molly Zuckerman-Hartung! Other auction items include a Nashville basket of hipster goodies and art curated by a Nashville native, restaurant gift certificates, as well as guided trips to Frieze VIP with a nationally recognized appraiser and Yale Open Studios with FSW creative director, Terri C Smith.
We will also be opening our new exhibition that evening with False Flag:The Space Between Paranoia and Reason, curated by New Haven based artist Jeff Ostergren.  False Flag is a group exhibition that investigates the continuum of paranoia, as subject matter, philosophical position, and psychological state. Exhibiting artists include: Darja Bajagić, James Benning, Theodore Darst, Violet Dennison, Mark Flood, Michael Green, Juliana Huxtable, Stanya Kahn and Harry Dodge, Daniel Keller, Son Kit, Tim Trantenroth, and Melvin Way. The exhibition is on view from September 22, 2018 – January 6, 2019.
Many thanks to our event sponsors to date: Sharon and Steven Chrust, Arts Awards sponsor; Aquarion Water Company; Fifield Piaker Elman Architects PC; SL Green Realty Corp; Purdue Pharma L.P.; MediaCrossing Inc.; Net Trade LLC; WPKN. Exclusive Media Sponsor: Stamford Magazine. In-kind sponsors include: Farmer's Cow, Half Full Brewery, Irving Farm Coffee Roasters, Little Pub, Nestle Waters, Santa Energy, Sweet Pistachio, Tito's Handmade Vodka, The Winebow Group.
ABOUT OUR HONOREES
Ingrid Semaan is a committed feminist activist who has worked on campaigns against gendered violence and for reproductive justice, workers' rights, and peace and justice in the Middle East.
The daughter of immigrants, Ingrid received her Ph.D. in Sociology in 2006 from the University of Massachusetts-Amherst. Her dissertation, "Beyond Staying and Leaving: Battered Women's Responses to Abuse," is a qualitative study of the ways battered women respond to abuse, with an emphasis on the ways that they resist abuse.  In her teaching and activism, Ingrid uses an intersectional feminist framework when addressing wealth inequality, health and health outcomes, abuse and violence in intimate relationships, and representations in popular culture.  She is also a passionate defender of immigrant rights and a vocal critic of police violence.
For the past 12 years, Ingrid has been the director of UConn-Stamford's Women's, Gender, and Sexuality Studies Program and Center, creating a space for intellectual debate and social activism.  During that time, she has also been a faculty advisor for several student organizations, including Zero Tolerance, Spectrum, and Resist!  She has also maintained relationships with community organizations including The Domestic Violence Crisis Center, The Center for Sexual Assault Counseling and Education, The Triangle Community Center, The Women's Mentoring Network, and Franklin Street Works.
In 2016, Ingrid co-curated the exhibit "All Byte: Feminist Intersections in Video Art" with Terri Smith and Justin Liberman, a show focused on feminist conversations and scholarship around the inseparability of class, race, country of origin and other factors when contemplating gender and sexuality in art.  These video works were informed by intersectional approaches found in feminist scholarship which have sparked discussions in arts/artist communities around oppression and privilege.
Ingrid Semaan is a scholar-activist who strives to live the truths she teaches.
Trisha Baga is a recent nominee of the Nam June Paik award. She has an solo exhibition at Greene Naftali, New York, from September 14 – October 20, 2018 and, recently, was  featured at the Okayama Art Summit, Japan, and the Biennial of Moving Images in Geneva. Recent solo exhibitions include 356 Mission Road, Los Angeles (2017); Greene Naftali, New York (2015); Zabludowicz Collection, London (2014); Gio Marconi, Milan (2014); Peep-Hole, Milan (2013); Societe, Berlin (2013); and Whitney Museum of American Art, New York (2012).  Her work belongs to the collections of the Whitney Museum of American Art, New York; Zabludowicz Collection, London/New York/Sarvisalo; Julia Stoschek Collection, Düsseldorf; Moderna Museet, Stockholm; and the Museum of Modern and Contemporary Art of Trento and Roverto. Baga was an exhibiting artist in Franklin Street Works inaugural exhibition "Fernando," September, 2011.
In Kind Sponsors: Farmer's Cow, Irving Farm, Little Pub, Half Full Brewery, Nestle Waters, Santa Fuel, Sweet Pistachio, Tito's Handmade Vodka, Winebow Group