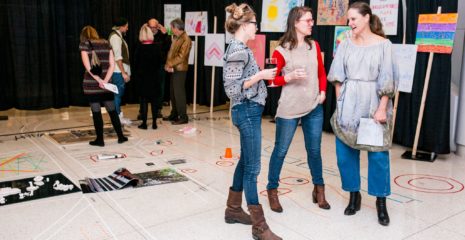 November 12, 5:00 PM–8:00 PM
Franklin Street Works is excited to announce our annual benefit party! This is our largest and most important fundraiser for the year and it takes place Saturday, November 12 from 5:00 – 8:00 pm. Tickets start at $55 and all proceeds benefit Franklin Street Works' exhibitions and programming.
This year's theme is Art Activism: Celebrating Socially Conscious Art and we are thrilled to honor three amazing activist artists Andrea Bowers, Chitra Ganesh, and Miriam Ghani — all of whom exhibited in the Franklin Street Works exhibition "Acting On Dreams: The state of immigrant rights, conditions, and advocacy in the United States."
Our Art Activism party will also include a silent auction featuring art experiences, artworks and more! There will be complimentary libations and dinner by the bite by Sweet Pistachio Events with Franklin Street Works Cafe. Because last year's amazing DJ Tally Bower moved to LA we have asked his friend DJ Ripley (Heavy/Dutty Artz NYC) to spin records this year!
As part of the art component for the event, Franklin Street Works is partnering with Social Practice Queens MFA students for an October community event whose resulting materials will form a pop up exhibition at the party.
Special thanks!
Event sponsors: Reckson, A Division of SL Green Realty Corp., Fifield Piaker Elman Architects PC, Sharon and Steven Chrust, Purdue Pharma LLP
Exclusive Media Partner: Stamford Magazine/Moffly Media
In kind sponsors:  Little Pub, High Ridge Printing, Half Full Brewery
If you or your employer might be interested in becoming a sponsor or ordering a block of tickets at a group discount email our ED Bonnie Wattles at bonnie@franklinstreetworks.org.
ABOUT OUR HONOREES
L.A. based artist Andrea Bowers received her MFA from CalArts and makes work focused primarily on direct action and non-violent civil disobedience enacted through the lives of mainly women. She presents the stories of activists to express her belief that dissent is essential to maintaining a democratic process, as well as to illustrate the importance of a political strategy that stands in opposition to violence and war. Bowers is represented by several galleries, including Susanne Vielmetter Los Angeles Projects, and Andrew Kreps in New York, NY.
Mariam Ghani is an artist, writer, and filmmaker. Her work looks at places and moments where social, political, and cultural structures take on visible forms. Ghani holds an MFA from the School of Visual Arts, and teaches in the MFA Social Practice program at Queens College, CUNY, and at Cooper Union. Solo exhibitions include the Queens Museum of Art, the Saint Louis Art Museum, and the Gatchina Museum. Screenings include the Met Breuer, the National Gallery, and MoMA. Notable group exhibitions include the Sharjah Biennial, dOCUMENTA 13, the Secession in Vienna, and the Guggenheim.
Chitra Ganesh was born and raised in Brooklyn, NY, where she currently lives and works. Ganesh's large-scale wall installations, comics, photography, and collaborations often communicate submerged histories and alternate articulations of femininity to a broader public. Ganesh, who received her MFA from Columbia University, has had solo exhibitions at venues such as the Brooklyn Museum of Art, Gothenburg Kunsthalle, and PS 1/ MOMA. Her work is major public collections, including the Museum of Modern Art and the Whitney Museum of American Art.