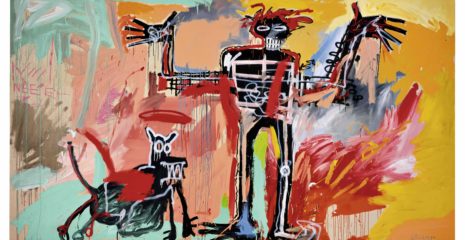 May 6, 4:30 PM–5:30 PM
"Jean-Michel Basquiat" is a retrospective exhibition featuring 70 works by Jean-Michel Basquiat dating from 1980-1987. It is the inaugural exhibition in the Brant Foundation's New York City location on the Lower East Side. This stunning exhibition is SOLD OUT  after garnering rave reviews from publications such as The New York Times.  
Thanks to Franklin Street Works collegial relationship with the Brant Foundation, Art Engaged members will enjoy exclusive access to a private tour of "Jean-Michel Basquiat"  on a "private day" reserved for arts professionals.
Our private tour of this sold out Basquiat exhibition is just one of the many perks Art Engaged members enjoy. Art Engaged is the best membership program for people who love art, artists, collecting, conversing, thinking, and exploring historical contexts in contemporary art. Membership is $250 for the year and members can invite one guest to all of our special trips, previews, and events. JOIN HERE for a year of thought-provoking discovery. Art Engaged members are vital partners in sustaining Franklin Street Works award-winning exhibitions and free educational programs. Read more here
With works gathered from collections around the world, the show positions Basquiat as an artist of "astonishing radicalness" who showed a prescience for our digital society by using cut-and-paste words and images with an immediacy that reflected the world. In The New York Times, reviewer Martha Schwendener expands on this immediacy, writing, "Basquiat was also part of a group of Neo-Expressionists that were largely rejected by critics interested in photography, video and conceptual art — but embraced by a popular audience and a surging art market, where he often felt treated like a faux-primitive genius, which he found racist and demeaning. And yet, this seemed to fuel his work — and the anger in it — toward greater heights, forging a brand of African-American history painting that addressed everything from cultural figures to black policemen."
Image: Jean-Michel Basquiat, Boy and Dog in a Johnnypump (1982). Acrylic and oilstick on canvas
©️Estate of Jean-Michel Basquiat. Licensed by Artestar, New York.