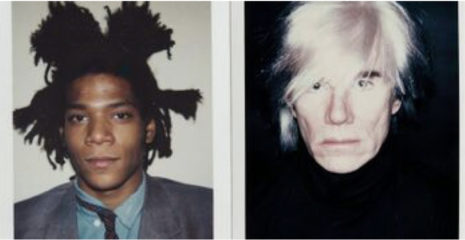 June 8, 11:00 AM–12:30 PM
One of the art world's most compelling creative partnerships. Jean-Michel Basquiat and Andy Warhol collaborated for five years, creating vibrant and brilliant works of art.  The exhibition, with its main focus on collaborative works made by these two master artists, is on view at at gallerist Jack Shainman's The School, an exquisitely-renovated schoolhouse in pastoral Kinderhook, NY. Our visit includes a behind-the-scenes tour prior to viewing the 100+ individual pieces by both Basquiat and Warhol, as well as their collaborative works.
OPTIONAL: Following our visit to The School, we have reserved places at The Frommerie restaurant for those who wish to join us, dutch treat. After lunch there will be a private tour at Art OMI, an innovative sculpture and architecture park that includes outdoor works on landscaped fields and a breathtaking, skylit indoor exhibition space – all with a vision of diverse creative voices fostering inclusiveness and change.
SCHEDULE:
10 am – Behind the Scenes tour of The School:  25 Broad St, Kinderhook, NY 12106
11am – Tour of Warhol x Basquiat exhibition, Jack Shainman's The School
1pm – Optional Lunch, Dutch Treat at La Flammerie 7 Hudson Street, Kinderhook
2:30pm – OMI Sculpture Pasture:  1405 County Route 22, Ghent, NY 10 mi from Kinderhook
NOT AN ART ENGAGED MEMBER YET?
BECOME ONE HERE OR CALL 203-722-8914
Image:
© 2019 The Andy Warhol Foundation for the Visual Arts, Inc. / Licensed by Artists Rights Society (ARS), New York
© The Estate of Jean-Michel Basquiat / ADAGP, Paris / ARS, New York 2019