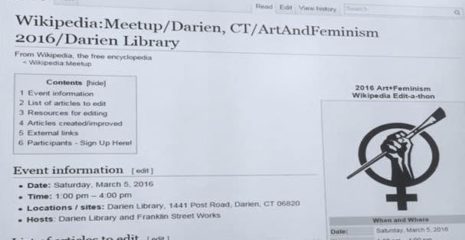 March 5, 1:00 PM–7:00 PM
There is an Art+Feminism Edit-A-Thon at Darien Library: Sat, March 5th, 1:00 to 4:00 p.m., followed by a tour of the Feminist-themed Exhibition, "Cut-Up: Contemporary Collage and Cut-Up Histories through a Feminist Lens," and Reception from 4:30 – 7:00 pm at Franklin Street Works.
Wikimedia Foundation found that less than 10% of its contributors identify as female. While the reasons for the gender gap are up for debate, the practical effect of this disparity is not. Content is skewed by the lack of female participation. This represents an alarming absence in an increasingly important repository of shared knowledge.
Join us for a half-day, edit-a-thon to contribute and expand upon Wikipedia articles relating to art and feminism. After the edit-a-thon, we will celebrate at Franklin Street Works contemporary art space and cafe with a 20-minute tour of the original exhibition "Cut-Up: Contemporary Collage and Cut-Up Histories through a Feminist Lens," followed by a wine and cheese reception. Edit-a-thon will be from 1 to 4 p.m. and exhibition tour and reception will be from 4:30 to 7 p.m. Join the revolution!
Reference materials will be provided, but attendees are encouraged to familiarize themselves with a topic beforehand. We encourage participants to look at the exhibiting artists in Franklin Street Works' current exhibition for entry/edit inspiration, they are listed in the exhibition description here:https://www.franklinstreetworks.org/cut-up-contemporary-collage-and-cut-up-histories-through-a-feminist-lens/. This event is co-sponsored by the Darien Library and Franklin Street Works.