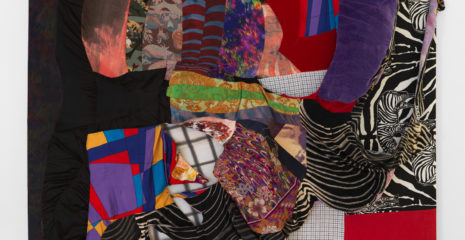 July 14, 4:00 PM–6:00 PM
Join Franklin Street Works exhibiting artists and Yale MFA professors, Anna Betbeze (New York, NY) and Molly Zuckerman-Hartung (Shelton, CT) in a casual discussion about the  overlapping themes in their work, including abstraction, color, materiality and desire. They will be joined by Franklin Street Works creative director, Terri C Smith. The conversation will be followed by a Q & A. This free, public event takes place at Franklin Street Works on Saturday, July 14, 4:00 – 6:00 pm. The event is educational programming for Franklin Street Works' current group exhibition "My Vicious Throbbing Heart: Animating Desire in Abstract Painting," curated by Risa Puleo and on view through September 9, 2018.
Anna Betbeze and Molly Zuckerman-Hartung make abstract paintings that often elicit desire through their use of color, the tactile, and the manipulation of objects through touch. Their works in "My Vicious Throbbing Heart" appropriate post-consumer objects that are altered through physical interventions ranging from cutting, dying and rubbing in Betbeze's case and sewing, draping, and bleaching in Zuckerman-Hartung's. The artists will discuss desire as it relates to the tactile or haptic, question what it means to think in color and explore the materials of color, including dyes, inks, paints, pigment, light, space and, even, sound.
ABOUT THE EXHIBITION
Featuring a diverse selection of queer artists working in abstraction, "My Vicious Throbbing Heart" investigates the intersection of abstraction and animism as emphasized by certain formal qualities — goopy, sticky, ooey-gooey or otherwise materially luscious surfaces — in combination with aspects of pattern and repetitions such as flutter, throbbing, palpitation, pulsating, and orgiastic rhythms. In "My Vicious Throbbing Heart," paintings by Claire Arctander & Latham Zearfoss, Anna Betbeze, Leidy Churchman, Anne Cousineau, Keltie Ferris, Matt Morris, Carrie Moyer, Lisi Raskin, Sigrid Sandstrӧm, Laurel Sparks, and Molly Zuckerman-Hartung take the forms of videos, installations of colored fabric and potpourri, a rope and rock assemblage, alchemical experiments on canvas and the gallery floor, and charred and dyed fur. The artists luxuriate in materiality while challenging the medium-specificity of painting.
ABOUT THE ARTISTS
Anna Betbeze (b. 1980, Mobile, AL) uses the conventions of painting to make new, multi-sensory objects. Describing the experience as "when seeing becomes breathing, stroking, tasting, and sound—often simultaneously," Betbeze suggests an erotic synesthesia at play in her works that allow them to be sensed as much as they are seen. She has had solo exhibitions at Nina Johnson Miami, Markus Lüttgen Cologne, Luxembourg & Dayan in London, Kate Werble Gallery New York, and Francois Gebaly, Los Angeles. Her work has been shown at institutions such as MOMA PS1, Massachusetts Museum of Contemporary Art, and Musee d'Art Moderne de la Ville de Paris, among other galleries and institutions around the world.  Her works are in the permanent collections of The Johnson Museum of Art at Cornell University and the High Museum in Atlanta. Her work has been reviewed in The New York Times, The New Yorker, Artforum, Modern Painters, New York Magazine, Frieze, and The Los Angeles Times. She is a recent recipient of the Rome Prize. Betbeze grew up in Columbus, Georgia and currently lives in New York City.
Molly Zuckerman-Hartung is a painter, writer and teacher who grew up in Olympia, Washington and participated in Riot Grrl in her formative years. Now she is working and grocery shopping and taking walks in Connecticut with her girlfriend and dog. She is an autodidact who is opening her attention to pattern and repetition, difference, learning, feedback loops, nostalgia, dolls, Victorian collage and textiles, John Coltrane and Miles Davis, Gees Bend quilts, the effects of soul lag on humans, high theory, low theory, kitsch, Modernism, affect theory, coloring crayons, tissue paper, the parergon, tactility, Elizabeth Bishop, the color of the light in the bare woods, and the emotional landscapes of students, friends, colleagues and strangers alongside whom she lives. Also, she is a full time Lecturer at the Yale School of Art, Department of Painting and Printmaking. She has shown at the Museum of Contemporary Art in Chicago, The Walker Art Center in Minneapolis, The 2014 Whitney Biennial, The Program at ReMap in Athens, Greece, Kadel Willborn in Karlsruhe, Germany and many many others. In 2013, she received a Louis Comfort Tiffany Award. She is a frequent guest lecturer at many schools across the country, including, in the past year, Princeton University, The University of Texas at Austin, University of Indiana at Bloomington, University of Alabama, the School of the Art Institute of Chicago Low Residency Program, and Columbia University. She is represented by Corbett vs Dempsey in Chicago and Rachel Uffner Gallery in