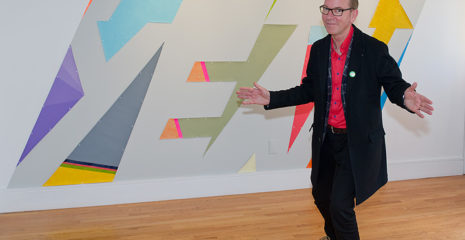 March 28, 4:00 PM–6:00 PM
On March 28, Franklin Street Works will host a lively talk by Australian artist, Jon Campbell, as part of the current exhibition "It's gonna take a lotta love," curated by Terri C. Smith and Liza Statton. For his Franklin Street Works talk, Campbell will discuss his art practice, including the formal strategies in the works he made for the Franklin Street Works' exhibition. The talk will give insights into Campbell's word paintings and flags, which are part of his public art installation in Stamford, CT. The event is free and open to the public and will take place at Franklin Street Works on Saturday, March 28th from 4:00-6:00pm, with the talk from 4:00 – 5:00pm followed by a Q & A and casual conversation with the artist in the café from 5:00-6:00pm.
Jon Campbell is a painter who lives and works in Melbourne, Australia. Marrying the design principles of modernist abstraction with Pop vernacular, he creates text-based paintings, banners, and flags that aestheticize common experiences.  For his Franklin Street Works commission, Campbell has created an ambitious public art project, his first in the United States, in addition to his gallery contributions, a "four letter word" mural, and a set list painting based on a Melbourne band's 1984 performance.  Campbell's flags and banners, including one at Stamford's Government Center, will be mounted in public parks, schools and in front of downtown businesses, creating a visual dialogue with residents, visitors and passersby. These "four-letter word flags" brightly declare words like Hold, Home, Look, Play, and Yeah. Elevating everyday words into pictorial objects, Campbell's flags ask viewers to consider which words are worthy of a public format usually saved for pageantry or branding and ask us to explore the potential of each word's meaning.
Campbell adds, "Words are in everybody's life but not necessarily as painted word. Once the word or phrase is isolated as a painting it suddenly resonates in a different way. So I think there is a lot of power in the word as an artwork. It also allows for a sense of humor and allows a lot of freedom in terms of design."
"It's gonna take a lotta love" is a group exhibition that explores ideas about inclusivity, authenticity, and commonality in an age of anxiety, isolated individualism, and virtually lived experience.
Artists include: Jon Campbell (Melbourne, Australia), Andy Coolquitt (Austin/NYC), Jeremy Deller (London), Jessica Mein (NYC), A.L. Steiner + Robbinschilds (NYC), Whiting Tennis (Seattle), Stephen Vitiello (Richmond, VA), and Wayne White (LA).
ABOUT THE ARTIST
Jon Campbell lives and works in Melbourne, Australia. In 2013, Campbell was commissioned by the National Gallery of Victoria (NGV) to create new public works for the comprehensive group exhibition, Melbourne Now. In 2012, Campbell was awarded the Basil Sellers Art Prize for his multi-panel painting Dream team. Recent solo exhibitions include Spring 1883, Darren Knight Gallery, Sydney (2014); DUNNO, Kalimanrawlins, Melbourne (2012); Pure Bewdy, Darren Knight Gallery, Sydney (2011); and Stacks On, Melbourne Art Foundation Commission (2010). Campbell is an Associate Professor at the VCA at Melbourne University.
ABOUT OUR SPONSORS
This exhibition is sponsored, in part, by The Bacon Family, First County Bank, The Levenson-Bailey-Lupinacci Family, PlowShare Group, Purdue Pharma, SL Green Realty Corp., and Video Data Bank. Jon Campbell's participation has been assisted by The University of Melbourne, Victorian College of the Arts, and the Australia Council for the Arts.