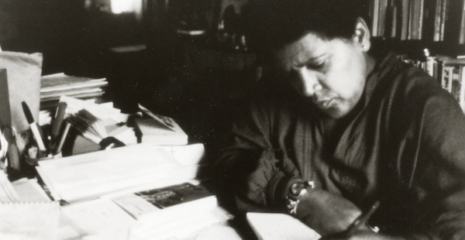 February 18, 3:30 PM–5:00 PM
Franklin Street Works and The Ferguson Library South End Branch will continue our exploration of Audre Lorde's accomplishment with a birthday bash at Franklin Street Works cafe on Sunday, February 18 from 3:30 – 5:00 pm. There will be a complimentary mimosa toast to Lorde and a short presentation about her work. The South End Branch Ferguson Library will feature Lorde's book Zami: A New Spelling of My Name at their monthly book club on March 25th (time TBA), which is open to the public.
This program is a continuation of Lorde's connection to Stamford, which was inspired by a commissioned art project for the Franklin Street Works 2017 exhibition, "The Work of Love, The Queer of Labor,"  by the Swedish artist collective YES! Association/Föreningen JA! Their site-specific work, "A New Spelling of a Street: A Tribute to Audre Lorde," aims to honor Lorde, who described herself as a "black, lesbian, feminist, warrior, poet, and mother." In the 1950s Lorde worked at Keystone Electronics, located at One Dock St. in the South End of Stamford, where she also met her first girlfriend. Yes! Association's project includes a request to change the name of One Dock St. to Audre Lorde St. in honor of this important American figure. This program is designed to inform the community in South End Stamford and beyond about Lorde's life, work, and history in Stamford, Connecticut.
Join us, as we continue our exploration of Audre Lorde's work and life in 2018 in another amazing collaboration with the Ferguson Library!