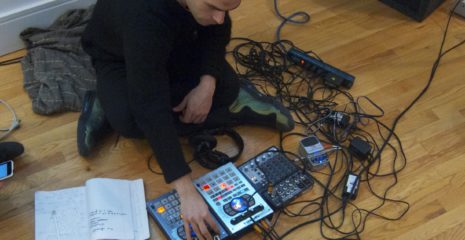 January 22, 4:00 PM–5:00 PM
"About Like So: The Influence of Painting" exhibiting artist Augustus Thompson will perform ambient styled electronic music at the Franklin Street Works upstairs gallery. For his live performance, Thompson will sequence sound loops that include elements from his piece currently on view in the gallery's café. The event is free and open to the public.
In Augustus Thompson's work, field recordings bleed into guitar work, creating sculptural sound. Thompson's performances involve the primitive sequencing of pre-recorded loops, referred to by the artist as "bedroom music."  In these performances simple lyrics take on repetitive motifs, much like mantras, in ways that connect performer and audience. Often melancholic, Thompson's music alludes to intimacy, privacy, and the open context of a free expansion of expression.
"About Like So: The Influence of Painting" is on view at Franklin Street Works through February 22, 2015. The exhibition features works that use paint in unorthodox ways or bypass the medium all together to reveal how the "language of painting" can invade, obstruct and enhance other media.
Exhibiting artists include: Polly Apfelbaum, Paul Branca, Taylor Davis, Tim Davis, Marley Freeman, Ragnheiour Gestsdottir, Michael Graeve, Dave Hardy, Alex Hubbard, John Knuth, Sophy Naess, Tameka Norris, Peter Nowogrodzki/Max Kotelchuck, Seth Price, Paul Theriault, Brad Tucker, Siebren Versteeg, Augustus Thompson, Leslie Wayne, "in actu: music and painting" (K.R.H. Sonderborg, Wolfgang Hannen, Günter Christmann and Paul Lovens).
About the Artist:
Augustus Thompson lives and works in Los Angeles and New York.  His work, which includes painting, print, installation, sound design and sculpture, has been exhibited most recently at the Museum Dhondt-Dhaenens, Deurle, Belgium (2014); White Cube, London (2014); Fondazione Museo Pino Pascali, Polignano, Italy (2014); Night Gallery, Los Angeles (2014); Still House Group, New York (2014); Steve Turner Contemporary, Los Angeles (2013) and in several San Francisco galleries where he began his career.