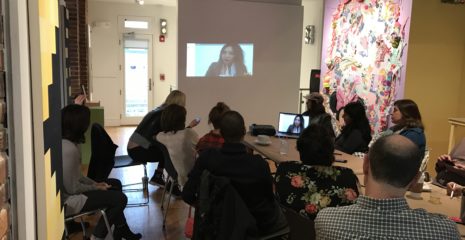 March 25, 4:00 PM–6:00 PM
B-YOU/Build Your Own University is a workshop that explores how to start your own school and is led by organizers Bruce High Quality Foundation University, a free university started by the internationally exhibiting, anonymous artist collective Bruce High Quality Foundation in 2009.  Faculty member, award-winning poet Ana Božičević, and artists-in-residence from Bruce High Quality Foundation University, Nina Behrle and Jesse Chun, will lead a sharing session, workshop and primer on how to build your own university at Franklin Street Works on Saturday, March 25, from 4:00 – 6:00pm. The workshop will delve into questions around pedagogy and organizing a grass roots platform for learning.  What can you teach and what do you want to know about art? How does one even design and implement administrative policies and a curriculum? This is a free public program. Drop-ins welcome, but RSVPs help us plan. RSVP: terri@franklinstreetworks.org.
This event is one of seven free, educational programs planned around our current exhibition "Love Action Art Lounge,"  a group show featuring works that are generated from or encourage convivial social scenes, freedom of expression, and interpersonal connectivity.  Two of the exhibiting collectives in the show, House of Ladosha and Go!PushPops, met in art school and began making work after getting to know each other socially. Similarly, the originators of Bruce High Quality Foundation University are a collective that was formed when they were in art school at Cooper Union. New York Times critic Roberta Smith wrote about their genesis in 2009, "The Bruces, as the members … are often called, guard their anonymity fiercely. But they are generally known to be a band of artists, all male, some of whom became friends while undergraduates at Cooper Union in the late '90s, when Hans Haacke, one of the fathers of institutional critique, was still teaching there."
This free, two-hour workshop will take place in Franklin Street Works' upstairs gallery. The exhibition "Love Action Art Lounge" will also be on view, providing participants with opportunities for both hands-on and viewing experiences at the event.
ABOUT BRUCE HIGH QUALITY FOUNDATION UNIVERSITY
BHQFU is New York's freest art school, a learning experiment where artists work together to manifest creative, productive, resistant, useless, and demanding interactions between art and the world. A 501(c)(3) nonprofit organization, BHQFU offers completely tuition-free courses on a variety of subjects during fall and spring semesters, hosts public programs and exhibitions year-round, and operates cost-free artist studio residency programs.
ABOUT THE PRESENTERS
Nina Behrle graduated from Mason Gross at Rutgers in 2014. Her 3D kinetic work bridges the worlds of sculpture, prop design, and comedy. She is a figurative sculptor, figuratively speaking. She's also an MFU Artist in Residence at BHQFU, where she teaches Skill Yourself, a hybrid course comprised of skill-based workshops and an immersive, interdisciplinary, collaborative exhibition project.
Ana Božičević is the author of Joy of Missing Out (Birds, LLC, 2017), the Lambda Award winning Rise in the Fall (Birds, LLC, 2013) and other books of poetry, and the translator of It Was Easy to Set the Snow on Fire by Zvonko Karanović (Phoneme Media, 2017). Ana has read, taught and performed at Art Basel, Bowery Poetry Club, Harvard, Naropa University, San Francisco State University Poetry Center, the Sorbonne, Third Man Records, University of Arizona Poetry Center, and The Watermill Center. She is the studio manager at The Bruce High Quality Foundation and teaches poetry at BHQFU.
Jesse Chun is an interdisciplinary artist from Seoul, Hong Kong, New York and Toronto. Her practice engages with the elements of language, context, and cultural memory to investigate the conditions of belonging. Select venues of exhibitions and fellowships include the Bronx Museum of the Arts, Spencer Brownstone Gallery, Fridman Gallery, BRIC and Lehman College Art Gallery (NY), CICA Museum and Incheon International Women Artists Bienniale (Seoul), Lite-Haus Galerie (Berlin) and Space Debris Art (Istanbul). Her work has been reviewed in Artforum, the Wall Street Journal, the Korea Times, Hyperallergic, Vice, Asia Literary Review and Art21. She's an MFU Artist in Residence at BHQFU, where she teaches ESL: Transcultural Poetics, a class examining the interplay of image and text, poetry, and multilingual narratives.