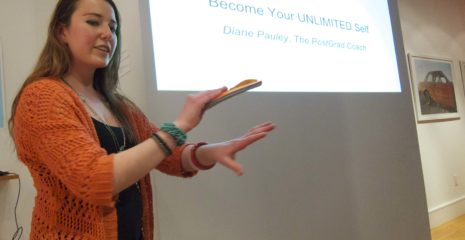 February 27, 7:00 PM–9:00 PM
Become Your Unlimited Self is a workshop and talk that takes place on Thursday, February 7 from 7:00 – 9:00pm at Franklin Street Works. This event is in synch with Franklin Street Works' tradition of highlighting emerging thinkers and doers in the region as part of our ongoing programming. Since graduating college, Diane Pauley, who goes by the "PostGrad Coach," has watched her peers struggle to find jobs and then settle in positions that, according to Pauley "knocked the passion right out of them".  This prompted her to start PostGradolescence, a coaching platform to teach millennials how to overcome their limited resources, make their art profitable and feel confident enough to be their own boss. The event is both a talk, and a workshop.
ABOUT DIANE PAULEY
Diane Pauley is the PostGrad Coach who learned how to harness her art and do it for a living. She is now helping other millennials do the same – build up their art and be their own boss  – at Postgradolescence.com. Pauley works with creative millennials and teaches them how to make their art profitable. By adding the right business components to their message, Diane's clients have been able to build up service-based businesses.