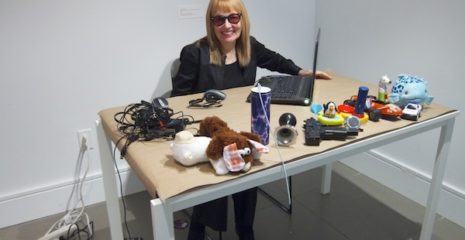 December 15, 2:30 PM–4:30 PM
Join us for a multiverse performance lead on site by Bibbe Hansen and including a virtual performance by the international artist collective Second Front Saturday, December 15, 2:30 – 4:30pm
Please join Franklin Street Works on Saturday, December 15 from 2:30 – 4:30pm for an afternoon performance by the international virtual performance art collective, Second Front. The event will begin with an intro with Second Front member Bibbe Hansen, followed by a live, streaming performance by Second Front from 3:00-4:00pm, and ending with a casual Q and A session. The group is one of the contributing collectives featured as part of the "collective action" theme in Franklin Street Works' current exhibition, Working Alternatives: Breaking Bread, Art Broadcasting and Collective Action. Second Front is the first performance art group in the online virtual world of Second Life, where participants create avatars who interact in real time across virtual/actual realities.
Founded in 2006, Second Front is a seven-member troupe that includes Patrick Lichty (US), Scott Kildall (US), Liz Solo (Canada), Bibbe Hansen (US), Yael Gilks (UK), Gaz (Italy), and Doug Jarvis (Australia). The group has performed extensively in galleries and museums all over the world. The artists perform remotely while their performance is screened in a venue where one or more members may be physically present. Their performances have been streamed live in New York, Los Angeles, Moscow, Brussels, Berlin, Vancouver and many other cities. They have been written about in publications including ArtForum, Art in America, Realtime Arts (Australia), Exibart (Italy) and Digital Art, Second Edition (by Christiane Paul).
For Franklin Street Works' free, public event, Second Front member, Bibbe Hansen will be on site. Bibbe Hansen is a performance artist, actress and musician. She is the daughter of Fluxus artist Al Hansen, and the mother of pop musician, Beck. A longtime participant in avant-garde contemporary art communities, Hansen participated in her father's "Happenings," and Fluxus performances. She was Pop artist Andy Warhol's youngest "Superstar," starring with Edie Sedgwick in Warhol's film "Prison."
This is a unique opportunity to see a live performance by this international group of artists in Stamford, Connecticut. We hope you will join us at Franklin Street Works for this edifying and entertaining look at what happens when art-historically informed performance art utilizes today's technologies via the vision of these accomplished artists!