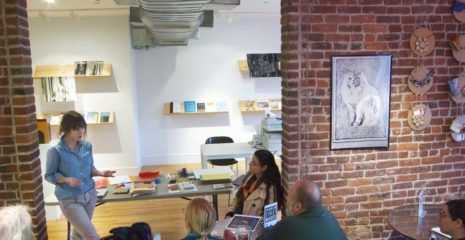 June 13, 5:30 PM–7:00 PM
Are you a book lover and enjoy making your own unique publications? Then join Franklin Street Works and artist Emily Larned for a free, public bookbinding workshop on Thursday, June 13th from 5:30 – 7:00 pm where you will learn simple, non-adhesive book structures that are easily made without special materials or tools. These basic handmade books can be made as editions or unique works of art. This event is part of Strange Invitation programming and inspired by Franklin Street Works' Reanimation Library branch, which features a physical collection of books that have fallen out of routine circulation.
"Marshall McLuhan said that when a technology becomes obsolete, it becomes an art form," Larned says. "And that's what we're seeing with the book as it becomes supplanted by digital storage and search technologies." So what else are books good for? Franklin Street Works' Reanimation Library branch addresses some of these issues by making explicit what isn't being digitized. In what is meant to inspire the production of new creative work, you will find books with a variety of illustration styles and printing techniques that have disappeared in most digital content due to the fact that photographs are now cheaper and quicker to make than illustrations.
Although the handmade book no longer serves its responsibility of recording the knowledge of humanity, it retains other qualities is has always had: a book is portable and requires no batteries or power, and a photocopied edition can be made inexpensively and distributed in public space anonymously. A book is finished in a moment in time, and is a great vehicle for aesthetic exploration, sharing of ideas, storytelling, and good old self-expression. "And maybe there's also something to the fact that there will never be an untold number of other people accessing it at the same time," Larned says. "It is limited and finite and physically inhabits the world – just like us."
ABOUT EMILY LARNED
Emily Larned has been self-publishing for 20 years, when she made her first zine Muffin Bones as a teenager in 1993. Since then, her artist publications have been collected by major institutions around the world including the V&A, the Tate Modern, The Smithsonian Institution, The J. Paul Getty Museum, and the Brooklyn Museum. She was a director of Brooklyn Artists Alliance for nearly a decade and co-established its education department. She also has taught basic bookbinding at every level from after-school programs through graduate workshops, including at Pacific Northwest College of Art (PNCA), University of Pennsylvania MFA program, and the Independent Publishing Resource Center (IPRC). Current work includes: Impractical Labor, an international member-organization-as-art-project for like-minded makers; Pleasure Beach Lives, a public park reclamation project in Bridgeport; and Land of Steady Habits, a zine/book series documenting progressive living in Connecticut. She's currently Chair of Graphic design at SASD, University of Bridgeport.