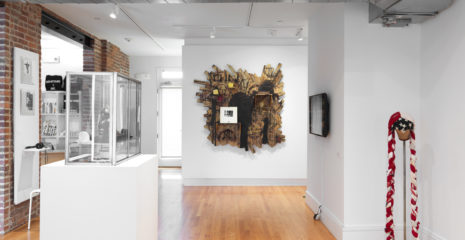 December 6, 6:00 PM–8:00 PM
Learn more about the artist whose writings and interviews inspired Franklin Street Works current show "I hear it everywhere I go" on Wednesday, December 6 from  6:00 – 7:30pm. Creative Director, Terri C Smith, will give a free, public, informal talk in the cafe about Cady Noland's art, exhibition history, and influence on artists working today. We will gather informally in the cafe to talk about Noland and enjoy wine, beer, coffee and more, which are available for sale in the Franklin Street Works' Cafe.
The curatorial premise of "I hear it everywhere I go" was inspired by artist Cady Noland's (b. 1956) writings on and statements about American life. During her career in the 1980s and 90s, Noland explored the American tendency to vent violent impulses through socially acceptable release valves such as figuratively "trashing" celebrities on the one hand and conning or preying on populations outside of dominant power structures – often in the name of entrepreneurship – on the other.  The artists in "I hear it everywhere I go" exponentially expand on and add to the show's themes with strategies that include: performed fictions that resituate celebrity and commodity culture; collaborative text pieces that give institutionally marginalized voices visibility; pop culture appropriations exploring the isolation of fame; the mining of distinctly American signifiers like varsity sports and daytime TV talk shows; and juxtapositions of post-consumer objects and mass-produced materials that read on multiple levels and often indicate how people's race, class, gender, and sexuality can position them in a simultaneous state of hypervisibility and invisibility in American culture.