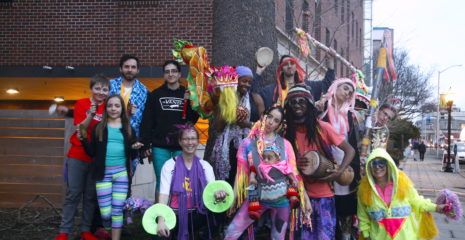 February 25, 3:00 PM–5:30 PM
New York City based artist collective Go!PushPops, in collaboration with musician and yogi UNDAKOVA, will give a youth hip-hop yoga chakra workshop titled "CHAKRAPOLIS" at Franklin Street Works. Go!PushPops are exhibiting artists in the not-for-profit contemporary art space's current exhibition "Love Action Art Lounge," and their workshop is part of the show's free public programming. CHAKRAPOLIS is designed for youth ages 8 to 18 and parents are invited to join in, have brunch in the Franklin Street Works Café, and/or explore the exhibition during the workshop! CHAKRAPOLIS takes place Saturday, February 25, from 3:00 – 5:30pm. Limited spots available due to space and this program will be videotaped as part of the artists' practice of using video documentation in their work. Please RSVP to Creative Director, Terri C Smith, at terri@franklinstreetworks.org to reserve your place and receive more details.
In this two and one-half hour workshop the artists will playfully explore chakras (spinning wheels of energy in the body) with the participants using movement, instruments, singing and simple yoga set to a healing soundtrack that correlates to each energetic center and its color — red (root), orange (sacral), yellow (solar plexus), green (heart), turquios (throat), purple (third eye) and gold (crown). The youth will be outfitted with colorful costumes representing the seven colors of the rainbow chakra system and create a collaborative kinetic sculpture embodying the rainbow of chakras and the celestial serpent of consciousness. The workshop will conclude with participants performing a parade through the neighborhood.
Falling close to the Chinese New Year, this "serpent of consciousness" (representative of enlightened knowledge or a faith in Oneness) also references the dragon ceremonies performed at the opening of Lunar New Year, the original calendar of the Goddess (Moon Time).  The Chinese Dragon represents good luck, protection and fertility, tracing back to Asia's dragon ladies (female shamans) and other living expressions of serpent worship and Goddess-consciousness — myths that were remade by patriarchal religions such as Confucianism and Buddhism and associated with demons and witchcraft in the Judeo-Christian world. "As a moving expression of the collective, our celestial serpent and dragon of consciousness is symbolic of the full spectrum of energy centers with balanced masculine and feminine elements," explains PushPop, Katie Cercone, "Together our bodies in motion with the sound current serves as a microcosm of the greater cosmos and a powerful expression of an integrated, diverse, vibrant community."