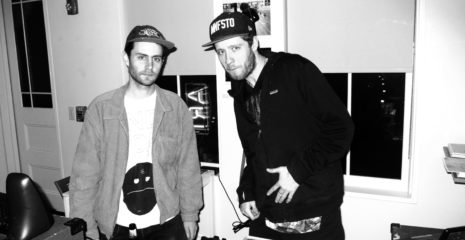 March 8, 7:00 PM–10:00 PM
Franklin Street Works will host an exhibition closing party for "Neuromast".  Co-curator Taliesin Gilkes-Bower and several exhibiting artists will be here to say goodbye to this group exhibition on Saturday, March 8 from 7:00 – 10:00 pm. With special extended hours, the party for Neuromast: Certain Uncertainty and Contemporary Art is a great opportunity to share Stamford's contemporary art gem with friends and family. Come dance, snack, drink and check out this intriguing, original exhibition before it closes!
Taliesin Gilkes-Bower is a DJ and producer who has worked across the Western Hemisphere. He has DJ'd at such hot spots as the Wythe Hotel in Williamsburg, Brooklyn, and has worked on music projects internationally. He will be joined by Sean Oloane (DJ OS), a Florida transplant whose been making some of the North Easts most essential stoner metal with his band Cool World. Both are fascinated by regional dance genres, autonomous musical ecologies, and post-ethnographic field recordings. They will be exploring their deep collections of analog and digital audio recordings.
Neuromast: Certain Uncertainty and Contemporary Art is an exhibition that explores "emergence," the theory that says unforeseeable results happen when a system reaches a certain level of complexity. The show's title is inspired by a very specific emergent phenomenon, "neuromast," which is the sensory organ that allows fish to effectively behave in unison against the threat of predators. Neuromast features sculpture, videos, text-based works, photographs and more by contemporary artists, writers and theorists interested in theories of emergence.  Exhibiting artists are: Kari Altmann, Christian Bök and Micah Lexier, Ingrid Burrington, Kaye Cain-Nielsen, Mircea Cantor, hint.fm, David Horvitz, Brian House and Jason Rabie, Juliana Huxtable, Thilde Jensen, Carolyn Lazard, M. M. Mantua, Preemptive Media, Robert Spahr, Elizabeth Stephens and Annie Sprinkle's Sexecology collaboration, and The Waterwhisper Ilse. The exhibition is curated by Taliesin Gilkes-Bower and Terri C Smith and is on view through March 9, 2014.