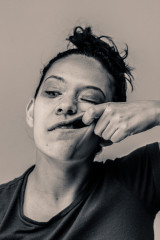 January 11, 4:00 PM–6:00 PM
Poet/performance artist Jennif(f)er Tamayo performs Tears/Saliva/Sweat/Ink on January 11 from 4-6pm.  The commissioned performance is a multimedia work that investigates the relationships between gendered violence, labor, and memory through embodiment. The series honors influential artist Ana Mendieta's attention to the ephemerality and permanence of natural elements, and initiates conversations between Tamayo's visual and audio works. In this new piece, Tamayo continues her textual and performance practices of making the painfully invisible hypervisible by writing with and through the body.
Tamayo will begin at 4:15p and go until 5:45p. Audiences are invited to engage Tears/Saliva/Sweat/Ink as their energy or time allows and may come and go during the performance's 1.5 hour duration.
Tears/Saliva/Sweat/Ink contains mature elements that may not be appropriate for all audiences. Performance content makes reference to sexual assault and violence. To inquire, email our creative director Terri C Smith: terri@franklinstreetworks.org
BIO: Jennif(f)er Tamayo is a queer, migrant, formerly undocumented poet, essayist, and performer. Her poetry collections include [Red Missed Aches] (Switchback, 2011) selected by Cathy Park Hong for the Gatewood Prize (2010), Poems are the Only Real Bodies (Bloof Books 2013), DORA/ANA/GUATAVIT@ (RSH 2016), YOU DA ONE (2017 reprint Noemi Books & Letras Latinas's Akrilica Series) and her latest publication, TO KILL THE FUTURE IN THE PRESENT (Green Lantern Press, 2018). Most recently, her writing has appeared in Contemptorary, Perigee, and The Capilano Review. Currently, JT lives and works on Ohlone and Patwin lands.