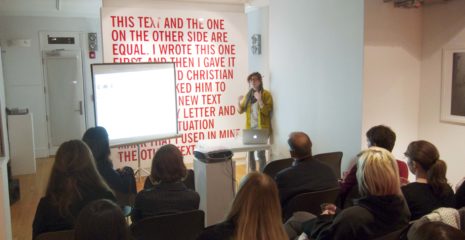 February 20, 6:30 PM–8:00 PM
Please join us Thursday, February 20  from 6:30 – 8:00 pm for Ingrid Burrington's Talk on her project, "The Center for Missed Connections".
With Valentine's Day, after seeing stores stock up with flowers, hearts and chocolate boxes, we are reminded that love is in the air. Feeling like we are missing out on this sort of love connection is at the core of Ingrid Burrington's Center for Missed Connections project, which maps and studies loneliness and romantic longing in cities through the missed connections section of Craigslist. Join Franklin Street Works on Thursday, February 20 from 6:30 – 8:00 pm for "Connecting Over Missed Connections," a conversation with New York-based artist, Ingrid Burrington. This free, public event also includes one complimentary Valentine's Day cocktail for each guest!
The Center For Missed Connections project started with Burrington's simple question, "What is the loneliest place in New York City?" As she started to do research, the missed connections sections of Craigslist seemed to be the perfect place to start. This section, exclusive to Craigslist, is a common zone of loneliness in print that is also a free-for-all dialogue of venting, longing, and spamming. Burrington explains, "Analysis of Craigslist Missed Connections postings and communities offers a glimpse into the loneliness and sexual tension that serve as the linchpin of any thriving metropolitan environment."
Ingrid Burrington's Taxonomy of Missed Connections, part of Center for Missed Connections, is a mapping of missed connections in New York City, and is currently on view in Franklin Street Works' Neuromast: Certain Uncertainty and Contemporary Art show. The exhibition, curated by Taliesen Gilkes-Bower and Terri C Smith, is on view through March 9. The show explores "emergence," the theory that says unforeseeable results happen when a system reaches a certain level of complexity. Exhibiting artists are: Kari Altmann, Christian Bök and Micah Lexier, Ingrid Burrington, Kaye Cain-Nielsen, Mircea Cantor, hint.fm, David Horvitz, Brian House and Jason Rabie, Juliana Huxtable, Thilde Jensen, Carolyn Lazard, M. M. Mantua, Preemptive Media, Robert Spahr, Elizabeth Stephens and Annie Sprinkle's Sexecology collaboration, and The Waterwhisper Ilse.
ABOUT INGRID BURRINGTON
Ingrid Burrington is an artist and writer living on a small island off the coast of America. There is more information about her at lifewinning.com