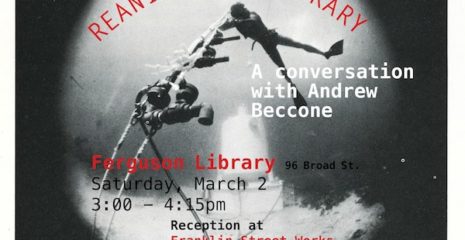 March 2, 4:15 PM–5:30 PM
Franklin Street Works and The Ferguson Library are happy to announce a conversation with Reanimation Library founder, Andrew Beccone, on Saturday, March 2, from 3:00 – 4:15 at the Ferguson Library auditorium in Stamford, CT. There will be a reception at Franklin Street Works from 4:15 – 5:30 pm, after the talk! Reanimation Library is one of three collaborators involved in Franklin Street Works' upcoming exhibition, Strange Invitation (April 4 – June 2013.) For the talk, Andrew Beccone will discuss the mission of his independent library and explain the temporary Franklin Street Works' branch that he is creating for Strange Invitation. The branch library created for the exhibition will be open for public use, encouraging daily audience participation and hosting related programs. During the show's run Franklin Street Works will also present collaborative workshops and projects in association with the Stamford Art Association and the Loft Artists Association.
Reanimation Library is a small Independent Presence Library, meaning a non-circulating collection that exists in the physical world. It is open to the public and is meant to inspire the production of new creative work. Reanimation Library features a collection of books that have fallen out of routine circulation and are acquired for their unique visual content. Outdated and discarded, they have been culled from thrift stores, stoop sales, and throw-away piles to be given new life as a resource for artists, writers, cultural archeologists, and other interested parties. "I consider the library itself to be an ongoing collaborative artwork that is activated by people who engage with and use it," Andrew Beccone explains. Since 2006, the library has been situated in Proteus Gowanus, an interdisciplinary gallery and reading room in Brooklyn, NY.
Since 2009, Andrew Beccone has created branch libraries that are temporary site-specific manifestations of the Reanimation Library. This allows the library to exist outside of its Brooklyn home, giving the possibility of others to engage with its content. Each branch library contains a collection of books that has been gathered from sources in its local community. For Franklin Street Works' branch, the library will contain books from the Fairfield County area as well as Reanimation Library inspired artworks by New York based artist Pradeep Dalal. A free scanner and photocopier will be provided to allow visitors to use the books as resource material for their own creative projects. For more information on the Reanimation Library, visit: http://www.reanimationlibrary.org/