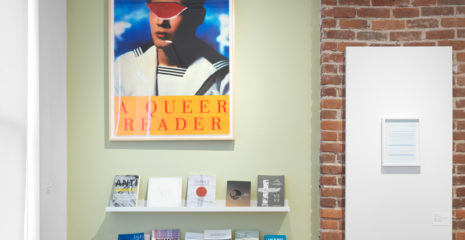 January 26, 3:00 PM–6:00 PM
Join us on Sunday, January 26 from 3:00 – 6:00p at Franklin Street Works for a free, public closing party on the last day of our current exhibition "Otherwise Obscured: Erasure in Body and Text." The party is free and open the public and includes a poetry salon, a curator tour, and wine and champagne.  The exhibition shows how acts of erasure can uphold and subvert authority. This free, public event is sponsored in part by the Stamford Arts & Culture Community Arts Partnership Program
The poetry reading  features three poets who consider erasure as part of their practice: Sara Elkamel, Jan-Henry Gray, and Malcolm Tariq.
Schedule:
Poetry Salon: 3:15 – 4:15p
Curator tour for folks who want one: 4:30 – 5:15p
Social time 5:15 – 6:00p
About the Poets:
Sara Elkamel is an arts journalist and poet based between New York City and Cairo, her hometown. She holds an MA in arts journalism from Columbia University and is currently pursuing an MFA in poetry at New York University. Her writing has appeared in The Common, The Rumpus, American Chordata, Winter Tangerine, Nimrod International Journal, as part of the 'Halal If You Here Me' anthology (Haymarket Books, 2019) and elsewhere. She has facilitated various writing workshops, including in Cairo, Alexandria, Sinai, Amman and Wadi Rum, which have focused on subjects integral to her own practice, among them: the relationship between text and the body, between memory and language, the notion—and physicality— of pilgrimage, and the roles questions can play in poetry.
Jan-Henry Gray was born in the Philippines, grew up in California, and worked as a chef in San Francisco for more than 12 years. He lived undocumented in the US for more than 32 years. A graduate of San Francisco State University and Columbia College Chicago's MFA program, he received the inaugural Undocupoets Fellowship and awards from the Jack Kent Cooke Foundation and the Academy of American Poets. Jan is a Kundiman fellow and teaches writing and poetry workshops. Jan's writing can be found in Nepantla: An Anthology for Queer Poets of Color, The Rumpus, Tupelo Quarterly, Colorado Review, DIAGRAM, Fourteen Hills, The Margins, Quarterly West, Puerto del Sol, and other journals. He is the author of the chapbook Selected Emails from speCt! Books. His first book, Documents, was chosen by D.A. Powell as the winner of BOA Editions' 2018 Poulin Poetry Prize.
Malcolm Tariq is from Savannah, Georgia, and is the author of Heed the Hollow, winner of the Cave Canem prize, and Extended Play, winner of the 2017 Gertrude Press Poetry Chapbook Contest. A graduate of Emory University, Tariq has a PhD in English from the University of Michigan. Malcolm Tariq's poems explore the concept of "the bottom" across blackness, sexuality, and the American South.
About the curator:
Danilo Machado is a queer undocumented writer born in Medellín, Colombia currently living in Brooklyn, New York. His poetry and criticism has been featured in Hyperallergic, ArtCritical, The Brooklyn Rail, TAYO Literary Magazine, Long River Review, The Advocate, among other publications. Danilo is an honors graduate of the University of Connecticut-Stamford where he completed a thesis entitled "Seeing/Read: Feminisms, Queerness, and Authorship in Words and Image." A former fellow at the Brooklyn Museum, Danilo has also been a Production Assistant and Writer at The Brooklyn Rail.
On view from September 21, 2019 – Jan 26, 2020, Franklin Street Works fall group exhibition "Otherwise Obscured: Erasure in Body and Text," is curated by Danilo Machado and explores how tactics of erasure can be used to uphold systems of oppression and colonization, but can also be counterpoints—artists can turn a subtractive act into an additive one, poke holes in the colonizer's language and logic, and queer temporal spaces and histories. Otherwise Obscured examines relationships between the erasure of text through redaction and illegibility and the erasure of bodies through policy and violence. The exhibition's title riffs on poet Ángel García's definition of erasure in the 2019 essay Lessons on Erasure.
The intergenerational group of artists presented engage with a range of source materials—including government legislation, museum catalogs, and archival photography—to create work in video, audio, performance, poetry, and other media. The works in the show blur distinctions between obscuring and revealing, showing how acts of erasure can subvert notions of authority.
Exhibiting artists: Phil America, Bahar Behbahani, Hannah Black, Jesse Chun, Noelle de la Paz, Joey De Jesus, Alex Dolores Salerno, Francisco Eraso Jr., Noah Fox, Jenny Holzer, Tony Lewis, Ana Mendieta, Oscar Muñoz, Niina Pollari, Pope.L, Wendy Red Star, and Jennif(f)er Tamayo