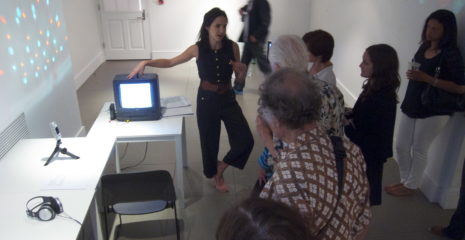 July 17, 6:30 PM–8:00 PM
Franklin Street Works will host a curator tour of "Showing the Work" on Thursday, July 17 from 6:30 – 8:00 pm with Sarah Fritchey. The tour will give visitors a rare opportunity to explore the art in Franklin Street Works galleries with the show's creator in a casual setting. Fritchey will discuss the impulse for the show, the exhibition's themes, and the challenges and successes of performance in a gallery setting. Join us for this free, public event to learn more about experimental dance and choreography in contemporary art. This event is made possible, in part, through a two-year grant from the Andy Warhol Foundation for the Visuals Arts.
Over the eight months preceding the exhibition, Fritchey met with the artists to discuss their practices and their various distances to the visual arts world. While many of the artists arrived with academic training in dance, music and writing, none had come from a studio practice or visual arts background. Fritchey will discuss the greatest challenge of this show — asking a choreographer or language maker to create something — to make an object or environment that would remain on display in an art space. These insights will explain the audio elements of the show, as well as the interactive components.  A group "hand dance" inspired by the influential dancer, Yvonne Rainer, will take place at end of the tour.
"Showing the Work" is an exhibition that explores experimental dance in the gallery setting and challenges our expectations of the gallery experience. The show brings together eight New York City based dancers whose work explores the meeting place between the artist, the performance and the audience and demonstrates how time-specific events might be meaningfully exhibited in the gallery over a multi-week period. Showing the work asks: How can live, transitory qualities of a dance be represented during the exhibition? How does the gallery facilitate a critical analysis of artist-audience interaction that a theatre does not?  Five of the artists performed one-night-only performances at Franklin Street Works during the first four weeks of the twelve-week run that activated their installations in the galleries.
Exhibiting artists include Jen McGinn and iele paloumpis, Robert Morris, Claudia La Rocco, Carolee Schneeman, Mårten Spångberg, Tatyana Tenenbaum, and Gillian Walsh.  Showing the Work is on view through August 31, 2014.
ABOUT THE CURATOR
Sarah Fritchey is an active freelance curator who explores the tension between choreography and improvisation as it relates to site and the act of meeting. She is the Visual Arts Coordinator at Artspace New Haven and a contributing writer to ArtForum's Critcs' Picks, The New Haven Advocate, and Art New England. She contributed as a research assistant to the 2013 Venice Biennial, the 50th Anniversary show at the ICA Philadelphia, Liam Gillick: 199A-199B at The Hessel Museum of Art, and Dangerous Beauty at The Chelsea Museum of Art.