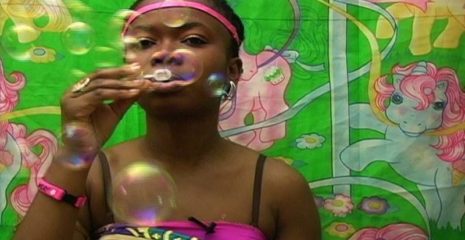 March 6, 4:30 PM–6:00 PM
Franklin Street Works past exhibiting artist Damali Abrams (Danger Came Smiling, Summer/Fall 2016) will give an artist talk at UConn-Stamford. This is a free public event, so anyone can attend. It is co-sponsored by the UCONN-Stamford WGSS department and Franklin Street Works. March 6 from 4:30 – 6:00 pm at MPR (Room 108), UConn, Stamford.
Damali Abrams is an emerging artist who uses youtube videos to directly connect with viewers, in part, bypassing the gallery and museum system to reach a broader audience. Writer Dominique Hunter elaborates on Abrams' practice, "She is a feminist, a self-professed "pop culture critic" and "glitter priestess". Like so many other artists, Damali Abrams uses her own lived experiences, good and bad, as catalysts for her own bodies of work. And although using "self" as the source as well as the vehicle for communicating with the public is hardly new, her work is quite different because it continuously blurs lines that have traditionally been shrouded in obscurity. Performance art might seem like an alien concept to most Guyanese but for this New York-based Guyanese artist living in such a dynamic art hub, it is anything but.
ARTIST BIO
Damali Abrams the Glitter Priestess is a project-based artist born and raised in NYC by Guyanese parents. She constructs spaces and experiences of fantasy and myth, using collage, video installation and performance, that explore Black Utopia through the lenses of Afrofuturism and Afro-Caribbean syncretic religions. She examines folklore and contemporary popular culture, placing them in dialogue with one another to create a site of liberation for the Black imagination, rejecting tragedy as the sole, dominant narrative of the Black experience.
Damali's work includes video, performance, installation, and collage. She earned a BA at NYU, an MFA at Vermont College of Fine Arts, and recently completed the Whitney Museum of American Art Independent Study Program. She has been a fellow at A.I.R. Gallery as well as with apexart in Seoul, South Korea. She has been an artist-in-residence at Fresh Milk (Barbados), Groundation Grenada, JCAL, The Center for Book Arts, and LMCC on Governors Island.
In New York City, her work has been exhibited at The Museum of Contemporary African Diasporan Art (MoCADA), A.I.R. Gallery, JCAL, Rush Arts Gallery, The Point, The Schomburg Center for Research in Black Culture, BRIC Rotunda Gallery, and the 2013 bienal at El Museo del Barrio. She has presented her work or taught workshops at Soho House, BMCC (Borough of Manhattan Community College), SUNY Purchase, Barbados Community College, NYU Polytechnic School of Engineering, Hunter College School of Social Work, and Syracuse University's 601 Tully.