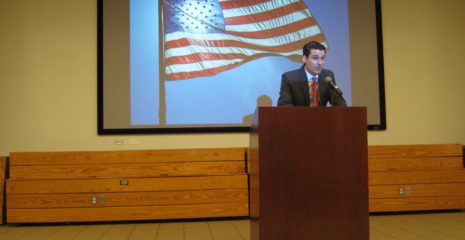 December 3, 3:00 PM–5:30 PM
New Haven Artist David Livingston, in Collaboration with Franklin Street Works and the Ferguson Library, creates a political speech that incorporates dozens of comments from library patrons.
With "Vote Your Conscience" by New Haven artist David Livingston, Ferguson Library patrons have been invited to share their personal convictions and lived perspectives as part of his interactive installation. The prompt he provides is a fictitious political candidate's commercial that is paired with a set of questions. The video and text are designed to spark conversation around themes such as patriotic imagery, race, gender, class and manipulative messaging in the American political system.
The installation opened on November 3rd and runs through November 30. During this exhibition's run, folks voted in a divisive election that caused conversations about the state of this country to proliferate. Today many people living in the U.S. find themselves to be more introspective than ever about what it means to be an American.  "Vote Your Conscience" will continue to provide a platform for library patrons and the general public to voice their thoughts on our political system through November 30th.
The answers and comments placed in the box at the Ferguson will be the inspiration for David Livingston's political speech/performance on December 3rd from 3:00 – 4:00pm in the Ferguson Library auditorium.  His imaginary political character will make a speech that is informed very directly by the community's comments regarding their concerns, aspirations, perceptions and more. The speech will be followed with a cocktail reception from 4:15 – 5:30 at Franklin Street Works, which is walking distance from the Library at 41 Franklin St. in downtown Stamford. The performance and reception are free and open to the public.
This three-partner project is collaboration between The Ferguson Library, Franklin Street Works and artist David Livingston. It is part of The Ferguson Library's contribution to The Aspen Institute's national project "What Every American Should Know". It is funded by a Regional Initiative Grant awarded to The Ferguson Library by the Cultural Alliance of Fairfield County in partnership with the Connecticut Office of the Arts.
ABOUT DAVID LIVINGSTON
David Livingston received his MFA from Pratt and is a New Haven artist who has exhibited nationally and is an adjunct professor at University of New Haven and Gateway Community College. Livingston works in sculpture and performance that include public happenings.
ABOUT THE FERGUSON LIBRARY
The Ferguson Library is Stamford's public library system, consisting of the Main Library, DiMattia Building; the Harry Bennett Branch; the Weed Memorial & Hollander Branch; the South End Branch and a traveling Bookmobile.  It provides free and equal access to information, ideas, books and technology to educate and enrich the Stamford community.