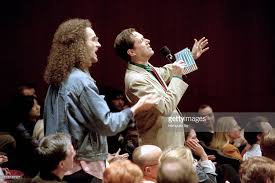 November 16, 7:00 PM–9:00 PM
Franklin Street Works is partnering with The Ferguson Library to present a panel discussion with renowned composer Mikel Rouse, internationally recognized composer/writer Kyle Gann, and award-winning television producer Barbara Alfano White. They will discuss Rouse's avant-garde opera, "Dennis Cleveland," which was first performed at The Kitchen in New York City in 1996 and is based on the structure of daytime TV talk shows, at a panel discussion on Thursday, Nov. 16. The event will be held at The Ferguson Library, 96 Broad Street, Stamford. The talk will take place 7-8:30 p.m. Pre-panel wine reception at Franklin Street Works, 41 Franklin St., at 5:45 p.m. The two venues are a five-minute walk from one another. The panel is a free, educational program for "I hear it everywhere I go," the group exhibition currently on view at Franklin Street Works, which includes video documentation of  "Dennis Cleveland" at Lincoln Center in 2002.
Rouse is a New York-based composer, director, performer and recording artist hailed as "a composer many believe to be the best of his generation,"  according to The New York Times. Rouse's "Dennis Cleveland" is an opera based on the dynamics of daytime TV talk shows, lending the panel discussion a sense of site-specific kismet: Stamford is where NBC Universal films Maury, The Jerry Springer Show, and The Steve Wilkos Show.  With Rouse's opera the platform of a daytime TV show becomes the stage for inquiry into interpersonal boundaries, cultural consumption, and monetary successes, ultimately offering  what Rouse describes as "the promise of salvation through popular culture." Gann, who, in addition to being a composer, is widely published, said in The New York Times,"'Dennis Cleveland' is a depiction of an unreal world: it's an opera in the form of a talk show, and don't let the word 'opera' fool you, because there's a rock beat throughout. Mr. Rouse himself plays the suave host, Dennis Cleveland: part television Buddha, part snake-oil salesman, part tortured soul."
View a clip of "Dennis Cleveland" on YouTube. More information on the opera can be found on Rouse's website.
ABOUT THE PANELISTS
Kyle Gann is a composer and was new-music critic for the Village Voice from 1986 to 2005. Since 1997 he has taught at Bard College. He is the author of seven books on American music, including books on Conlon Nancarrow, Robert Ashley, John Cage's 4'33", and Charles Ives's Concord Sonata. He studied composition with Ben Johnston, Morton Feldman, and Peter Gena, and much of his music is microtonal. His major works include the piano concerto Sunken City, Transcendental Sonnets for chorus and orchestra, the microtonal music theater piece Custer and Sitting Bull, The Planets for mixed octet and Hyperchromatica for three retuned, piano-driven pianos. His music is available on the New Albion, New World, Cold Blue, Lovely Music, Mode, Other Minds, Meyer Media, New Tone, Microfest, and Monroe Street labels.
Mikel Rouse is a New York-based composer, director, performer and recording artist hailed as "a composer many believe to be the best of his generation." (NY Times) His works include 31 records, 7 films (including Funding and Music For Minorities), and a trilogy of media operas: Failing Kansas, Dennis Cleveland and The End Of Cinematics. His work has frequently appeared on Top Ten lists around the country. He has received commissions from the Brooklyn Academy of Music, the Mary Flagler Cary Charitable Trust and the Meet the Composer/Reader's Digest Commissioning Program. Rouse's compositions have been performed at Lincoln Center, the New York State Theater, and Alice Tully Hall, and throughout the United States and Europe. More information is available at www.mikelrouse.com. Mikel Rouse's music is available on iTunes.
Barbara Alfano White has been an award winning producer for a number of syndicated television programs such as "Sally Jessy Raphael", "Maury Povich" and "In Person With Maureen O'Boyle". Barbara's specialty is Field Producing, where she crafted stories on video to introduce guests on the show.  She worked on all aspects of the talk show format, from pre-production to final editing. She was Executive Producer for Banyan Production's reality program "A Wedding Story".  Barbara is a seasoned professional who has most recently become an elementary school Media Specialist and Summer Camp Director.