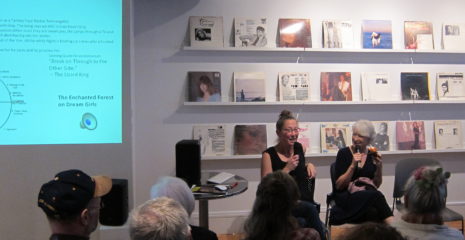 October 15, 4:00 PM–6:30 PM
Writer, actress, musician and performance artist, Ann Magnuson, will visit Franklin Street Works for a casual conversation about her boundary-pushing, three-decade career.
As part of Franklin Street Works' programming for their current exhibition Danger Came Smiling: Feminist Art and Popular Music, curated by Maria Elena Buszek, we will host genre-bending, counter-culture legend Ann Magnuson for a casual conversation about her work.
Ann Magnuson is a writer/actress/singer/musician/performer whose eclectic resume traverses the entertainment landscape like few others. She has acted in Hollywood blockbusters, Off-Broadway plays, TV sitcoms and indie films, fronted various bands, written for numerous publications and has presented her original performance art pieces at several major museums.
The event is free to the public and takes place at Franklin Street Works on Saturday, October 15 from 4:00 – 6:30 pm. Magnuson will talk with Franklin Street Works Creative Director, Terri C. Smith, and those in attendance from 4:15 – 5:15 followed by social time where beer, wine, coffee and snacks will be available for sale at the Franklin Street Works Café. Those attending will enjoy post-talk tunes spun by WPKN DJ Douglas Hovey, who will design a special set inspired by Magnuson and her work. WPKN 89.5 listener supported community radio is the media sponsor for this event.
Ann Magnuson, who is based in Los Angeles, is an exhibiting artist in Franklin Street Works' current group show "Danger Came Smiling," which brings together work by contemporary artists who use popular music as a medium, subject, and reference point for feminist messages. As part of the show, Magnuson is exhibiting two of her videos from the 1980s, Made for TV (1984) and Vandemonium, which Cinemax aired as part of its alternative programming in 1987. This is a rare east coast appearance for Magnuson, who also will perform songs from her new album "Dream Girl" as part of "Dream Sequencing: An Evening with Ann Magnuson" at The Museum of Modern Art in New York City on Monday October 17, at 7:00 pm.
Prior to her visit Magnuson will call in on WPKN to discuss her new album and other music projects with WPKN DJ Valerie Richardson, Tuesday October 4, at 6:00 pm. Along with Terri C Smith, they will discuss the "Danger Came Smiling" exhibition and explore Ann Magnuson's past music projects, which have included: the sardonic folk trio Bleaker Street Incident; her heavy metal band, Vulcan Death Grip; and the psycho-psychedelic band, Bongwater with whom she released five albums and gained an international cult following that remains rabid today. In addition to her September 2016 release of Dream Girl, Magnuson has released two previous solo albums, The Luv Show (Geffen 1995) and Pretty Songs & Ugly Stories (Asphodel 2007).
Special thanks to event media sponsor WPKN!