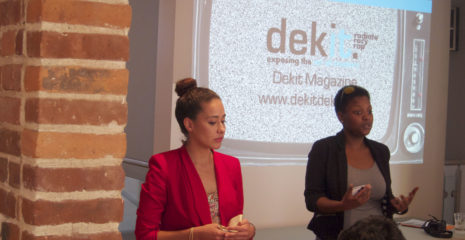 June 21, 5:30 PM–7:00 PM
Franklin Street Works presents: An Evening with Dekit Magazine.  For the event, Dekit's creators discuss how their nascent online magazine is a platform for emerging cultural producers and a catalyst for dialogue with both a local and global reach. Similar to Franklin Street Works, Dekit is decidedly interdisciplinary, featuring the visual arts, fashion, music, and more via shared themes such as "What does it mean to be human?" and the materiality of identity. A small but growing independent online publication based in Stamford, Connecticut, Dekit has featured street artists, photographers, painters, videographers, and musicians. Dekit's experiments in artistic discourse encourages unique ways of approaching creative enterprises.
On June 21 from 5:30 – 7:00 p.m. Dekit magazine founder Stephanie Harris and the magazine's Creative Director Nina Irizarry will share their story, leading a casual conversation about DIY-spirited publishing and the emerging artists they have collaborated with since the magazine's inception. Additionally, Dekit will screen a video project that highlights some of the magazine's featured artists, especially for this event.
According to Dekit's creators, "The inception of the Internet and the innovation of technology have resulted in a shattering of geographic boundaries. Having a digital world at our fingertips has impacted the way in which we communicate, the types of dialogues we engage in or create, and the ways we influence one another," adding, "This age of cutting edge innovations has also created a golden age of flux."
Franklin Street Works and Dekit Magazine collaborated to produce this informative event that highlights the magazine's mission, its challenges and its goals for the future. This event is part of Franklin Street Works' commitment to providing an alternative space for contemporary art while providing a discursive platform for other independent ventures in art and culture. The event is free and open to the public.