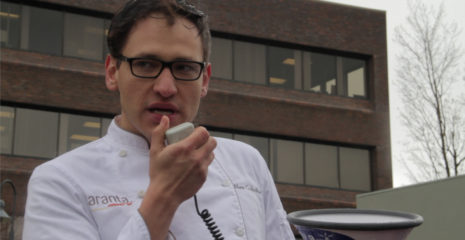 March 13, 7:00 PM–9:00 PM
Franklin Street Works is pleased to present the new documentary film Fair Tomatoes: A Story About Justice, Dignity, and Sustainability on Thursday, March 13 at 7:00 pm, followed by a Q & A with its directors, Ernie Zahn and Ron Williams. The 25-minute film focuses on the plight of farmworkers in Immokalee, Florida, and their organized efforts to correct abuses and wage issues that persist today. This free, public screening with the film's directors invites the community to join in conversation about fair-food practices and workers' rights. It's an informative and inspiring event for everyone, including food lovers, consumer advocates, chefs, and civil liberties activists! Franklin Street Works will feature a tomato-inspired snack and each audience member will receive one complimentary beer or wine.
Immokalee, Florida, is the tomato capital of America, but it is also home to abuse, stagnant wages, mistreatment, and unjust labor conditions. In the last decade, the workers have organized the Coalition of Immokalee Workers. The group hopes to raise awareness about corporate social responsibility, community organizing, and sustainable food, while also ending modern-day slavery and other labor abuses. The film explores their efforts in Southwest Florida, but also addresses what restaurants, chefs, and consumers can do to support sustainable food practices.
Produced by All Kicker, the Greenwich-based arts and activism blog, in association with Taranta, a Boston North-end restaurant dedicated to socially responsible food practices, the film is currently on tour to increase the visibility of this issue and to continue to make the workers' experience part of the conversation on sustainability.
This program precedes a related exhibition, "The Sunken Living Room," which opens March 22 and focuses on labor, debt, banking and other issues surrounding the recession as seen through the work of fifteen contemporary artists.
ABOUT ERNIE ZAHN
Ernie Zahn is the current Executive Director of NPeaches. He began his media filmmaking career in high school with his first short film which went on to be screened in film festivals domestically and internationally. His skills in media merged with his activism shortly after college when he was hired by Mozilla Foundation to be a part of the organizing team for the Open Video Conference, an annual event focusing on issues such as digital rights, human rights and egalitarianism through online video. Ernie has since gone on to found a social justice non-profit that focuses in media, NPeaches – seving as the parent company to All Kicker.
ABOUT RON WILLIAMS
Ron Williams is a producer at NPeaches. Applying his skills in kendo, fencing, and other martial arts, Ron entered the film industry as a fight choreographer. He later moved in front of the camera as the host of the web series Ronaldo Tours, a food and travel series focuses on Italian culture in America. Ron has since moved into various roles in filmmaking through NPeaches as one of the organization's founding members.