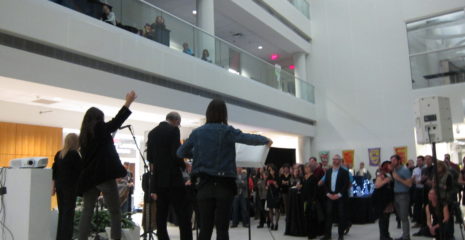 November 14, 5:00 PM–8:00 PM
"Four-on-the-floor: The Art of Five" is a benefit party celebrating Franklin Street Works' fifth year as an award-winning, not-for-profit, contemporary art space. This event takes place at Rich Concourse at UConn Stamford on Saturday, November 14th from 5:00 – 8:00 pm and features a silent auction of art works and and unique art experiences, a celebration of internationally renowned artist Alison Knowles, drink, food, music, and more! This event is ticketed, with tiered prices ranging from $50.00 – $1,000. Tickets for the event are available at franklinstreetworksFIVE.eventbrite.com.
At "Four-on-the-floor," Franklin Street Works will celebrate the career of Alison Knowles, founding member of the influential and historic 1960s Fluxus art movement. Longtime friends of the artist, Bibbe Hansen, Sean Carrillo, and Clarinda Mac Low will celebrate the honoree with short performances inspired by Knowles' work.
The party will also include music from Guest DJ Taliesin Gilkes-Bower; a silent auction of art-related items, including works by major artists Tim Davis, Mark Dion, and Leslie Wayne; experiential items such as a special tour of Jack Shainman Gallery: The School (Kinderhook, NY) and a Hamptons art weekend; a catered dinner by the bite; an open bar of imported wines and craft beers; and a special multimedia display designed by Purchase College New Media students. Across the street from UConn, Stamford, Franklin Street Works' galleries will be open for inquisitive guests who want to pop over and see the current exhibition "Initial Conditions: Artists Make Spaces."
"Four-on-the-floor" will benefit Franklin Street Works' innovative, museum-quality contemporary art exhibitions and educational programs which are free to the public. Since 2011, Franklin Street Works has curated 21 original shows, worked with more than 250 internationally exhibiting artists, and has organized 100 free public programs. Aiming to broaden community participation in the arts, Franklin Street Works offers programs that contribute to a larger arts dialogue and supports emerging and under-recognized artists. Franklin Street Works values artists' labor and pays its exhibiting artists, presenters, performers, and writers. As Stamford's professionally curated, contemporary art space, Franklin Street Works' exhibitions have garnered accolades, including a two year grant from The Andy Warhol Foundation for the Arts and positive reviews in major art publications such as Artforum, Hyperallergic, and Art Papers.
The event is sponsored by: Seaboard Properties, Reckson, a Division of SL Green, and Moffly Media. In-Kind sponsors are: Half Full Brewery, High Ridge Printing, Little Pub, Nestlé Waters, and Stamford Wine and Liquor.
ABOUT THE HONOREE
Engaging with chance, randomness, repetition, humor, shared experiences, and the poetry of food, Alison Knowles' pioneering career as a downtown New York artist spans more than fifty years. She was a founding member of Fluxus, a group focused on dismantling the conventions of high art through event type of instructional performances called "Happenings." Knowles has earned recognition for her work throughout her lifetime, including a Guggenheim Fellowship (1968); two National Endowment for the Arts grants (1981, 1985); an honorary degree from Pratt Institute (2015); invitations to perform at the Museum of Modern Art, New York, and the Tate Modern in London; and a special performance at President Barack Obama and First Lady Michelle Obama's event An Evening of Poetry at the White House (2011).
GETTING THERE: Rich Concourse at UConn Stamford campus, located at 1 University Place, is less than one hour from New York City via Metro North and approximately one mile (a 15 minute walk) from the Stamford train station. Parking is available at UConn Stamford lot located on Washington Boulevard, directly across the street from the campus building on the second level of the garage. On street parking is available on Franklin Street (metered until 6 pm), and paid parking is available nearby in a lot on Franklin Street and in the Summer Street Garage.