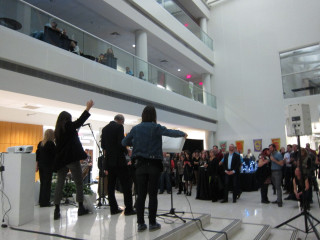 June 9, 12:00 PM–1:00 PM
Franklin Street Works had an annual benefit party from 2014 to 2018. As part of each fundraising event, we incorporated an art component, seeing every event at FSW as an opportunity to connect communities to contemporary art in all its forms. This included: social practice workshops that became an on site exhibition; and UConn-Stamford students collaborating with Cheryl Pope on a performative poetry project where they walked up to people at the party and asked if they wanted to be read a poem. We also honored nationally influential artists and local/regional community members at these events.
The Variation on a Bean Sequence by Sean Carrillo and Bibbe Hansen was for our 2015 honoree, founding Fluxus member Alison Knowles. People spoke about the event, which was part of our Four on the Floor themed party, for years to come, which inspired us to include art content in all of our fundraisers moving.