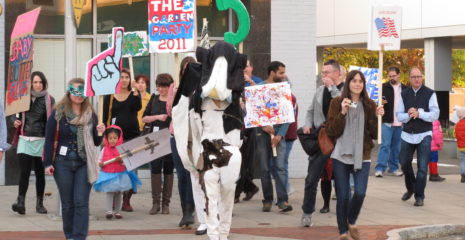 October 22, 5:00 PM–7:30 PM
"The Garden Party" is a site-specific performance by NYC based artist Trisha Baga. The artist's participatory performance is part of the programming for Franklin Street Works' inaugural exhibition Fernando.  Trisha Baga's 40-minute performance begins at 5:00 p.m. with an artist/audience procession from Franklin Street to the Landmark Square building on Broad Street. Fernando's artists – Baga, Lukas Gernonimas, and Mads Lynnerup – will be in attendance.
The performance, one could argue, is influenced by recent protests of Occupy Wall Street, but layered with a humorous aesthetic, including Baga in a two-person cow costume. Those in attendance will walk to the base of Landmark Square where Baga and her collaborators will perform using text on a drawing pad to tell a loosely woven story, movement, and a piano. The NYC-based artist's choice for the location is inspired by a visit to Stamford's Downtown Special Services District offices where she spied a framed newspaper feature about Stamford's daredevil tradition of Santa Claus rappelling down Landmark Square. Baga has crafted this work as a personal response to the city of Stamford, which is in keeping with the exploratory and observational approaches found in the exhibition Fernando.