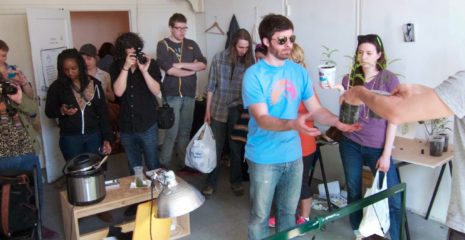 May 4, 10:30 AM–1:00 PM
Connecticut meet up 10:30 a.m. at Franklin Street Works and walk to train station or join us at Stamford Train Station for 11:03 train (third car from end). New York meet up between 12:30 and 1:00 pm at Clocktower Gallery.
SIGN UP TODAY by emailing Sandrine@franklinstreetworks.org!
There are 55 Honey Locust trees growing in New York City's Zuccotti Park, the central locale of the 2011 Occupy Walls Street protests. Artist David Horvitz collected the seeds from those trees in 2012 and is now germinating them at New York's Clocktower Gallery. On Saturday, May 4, after his Clocktower artist residency ends, Horvitz will lead 55 people in carrying the seedlings (one plant per person). The group (consisting of CT and NY participants) will take a Metro North train to Franklin Street Works, which is 40 minutes outside of NYC in Stamford, Connecticut. The plants will continue to germinate at Franklin Street Works through June 16.
For this collaborative performance, Franklin Street Works and David Horvitz are enlisting participants to help carry the trees from Clocktower Gallery to Connecticut, stopping off at nearby Zuccotti Park in route. Horvitz sees one person carrying one plant as a poetic component, adding, "I really like the image of someone going across the Atlantic in the 17th, 18th, 19th century, in a boat, carrying a small apple branch, or rose cutting, ready to plant it in America."
In germinating the Honey Locust trees, David Horvitz also considers the temporality of trees explaining, "The slowness of their pace is not subject to the world of the instantaneous and the immediate that we live in." These trees can live up to 150 years and will continue to germinate at Franklin Street Works during the Strange Invitation exhibition. In June, Horvitz and Franklin Street Works will find permanent homes for the trees, ideally at public institutions such as museums, libraries, and college campuses.
We still need participants! So Franklin Street Works hopes that you can join us in taking part in this collaborative performance and to bear witness to the relocation of these Honey Locust trees. Connecticut participants will meet up at Franklin Street Works at 10:30 am, while those living in NYC will meet up at 12:30 am at the Clocktower Gallery. To sign up and be a part of the performance please email your RSVP to Sandrine@franklinstreetworks.org. For information on FSW support and options in purchasing Metro North tickets, please email terri@franklinstreetworks.org.
ABOUT DAVID HORVITZ
David Horvitz is an artist from California who is currently based in Brooklyn. He works in a variety of media, including photography, video, web-based work, publications, and watercolor.