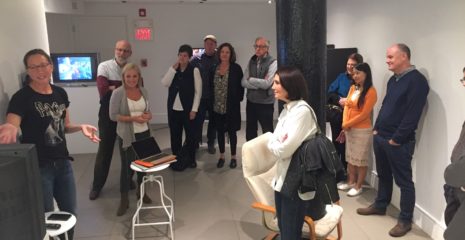 October 19, 6:00 PM–8:00 PM
Tour the exhibition, "I Hear It Everywhere I Go" with the show's curator Terri C. Smith and Stamford/NYC based therapist Margaret Beck from 6:15 to 7:00pm. Your guides will explore how selected works express dissatisfaction from the intersectional perspective of art and therapy. The tour will be followed by extended hours to see the show and social time in the cafe until 8:00pm. This free, public event also includes one complimentary vodka cocktail + there will be beers, wine and food available for sale in the cafe. This is an informal event and people can join the tour at any time.
"I hear it everywhere I go" is a group exhibition that includes sculptures, text works, installations, and videos ranging from 1995 to today. This show aims, in part, to explore dissatisfaction around the pursuit of the "American Dream" and how it is expressed. The curatorial premise was inspired by artist Cady Noland's (b. 1956) writings on and stated thinking about the American tendency to express violence through socially acceptable release valves such as figuratively "trashing" celebrities on the one hand and conning or preying on populations outside of dominant power structures – often in the name of entrepreneurship – on the other.  Exhibiting artists: Alex Bag, Michael Blake, Nayland Blake, Jen DeNike, Jonah Freeman & Justin Lowe, Rashid Johnson, Adam McEwen, Rodney McMillian, Tameka Norris, Cheryl Pope, Mikel Rouse, and Melissa Vandenberg
About The Tour Guides:
Margaret Beck is a practicing therapist who brings 20 years of training and experience in diverse settings to the process of making therapy work–using compassionate active listening, empathy, and a direct, common-sense approach to real-life challenges. She has extensive experience treating individuals with eating disorders, adults who suffered abuse in childhood or adolescence, and people coping with loss or the challenges of change in any form. Her approach to therapy combines psychodynamic psychotherapy with finding practical solutions to problems. Beck earned her MSW in Social work at Smith College and her M.Div. at Yale University. She lives in Stamford and has offices in Stamford and NYC.
Terri C. Smith has curated more than 100 contemporary art exhibitions for museums and arts nonprofits across the U.S. Recipient of numerous awards, including three grants from The Andy Warhol Foundation for the Visual Arts, her exhibitions have been well-reviewed in Art Papers, ArtForum online, Bomb blog, and artcritical.com. For 13 years, Smith was the curator of contemporary art at Cheekwood Museum (Nashville, TN). Smith then earned her MA from Bard College's Center for Curatorial Studies in 2008, working for the Westport Arts Center and the Housatonic Museum of Art before becoming founding Creative Director of Franklin Street Works, a not-for-profit contemporary art space in Stamford, Connecticut, in 2011. She also teaches Feminisms and the Arts at UConn-Stamford and has worked with the state government as a consultant on Connecticut public art projects.