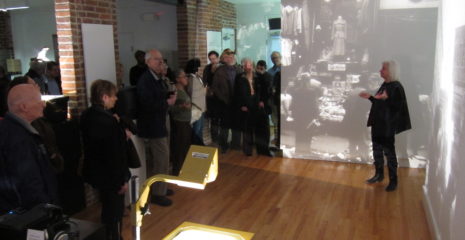 March 15, 6:00 PM–8:00 PM
Demaray provokes complex questions concerning memory, knowledge, and the collaborative cognitive process that exists between artist and viewer [while] making a body of work that has consistently confounded expectations by creating connections between diverse and often contradictory bodies of knowledge.
–Richard Klein, Exhibitions Director, Aldrich Museum
Enjoy a fun-filled workshop upholstering your favorite rock with internationally exhibited artist Elizabeth Demaray! Join the New York artist and Rutgers Associate Professor for an evening of unusual upholstering practices. Demaray's artwork Whatever's Left is currently on view at Franklin Street Works as part of the group exhibition House Arrest.  The couch sculpture of found sidewalk rubble and fabric was made especially for the exhibition, which explores the domestic in artworks, including shifting relationships to cultural and social norms.
Demaray will be leading us in a free, hands-on-workshop of pattern making and upholstery techniques on May 24 at 6:00 pm. Please RSVP to info@franklinstreetworks.org or 203-253-0404. For this event bring your favorite rock. Upholstery fabric will be available, but attendees are welcome to bring their own. After all, you might want your rock to match the couch! Light snacks will be provided. Beer, wine, coffee and sodas are available at the café whose sales support the art space and its programming.
Elizabeth Demaray is a recipient of the New York Foundation for the Arts Fellowship in Sculpture and the National Studio Award at the New York Museum of Modern Art/P.S.1 Contemporary Art Center. Demaray knits sweaters for plants, fabricates alternative homes for hermit crabs, and creates listening stations for birds that play human music. These and other upholstery-related projects may be seen on the artist's web site at http://www.elizabethdemaray.com/
At the conclusion of this workshop, attendees are invited to submit their upholstered artwork for an online gallery that will be posted on Franklin Street Works' website!