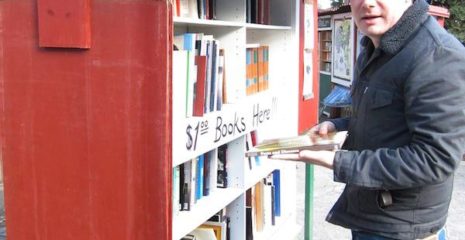 May 30, 6:30 PM–8:00 PM
Thursday, May 30 from 6:30 – 8:00 pm, Franklin Street Works will host An Incomplete Portrait of the Reanimation Library. This free, public event features Reanimation Library founder, Andrew Beccone, performing a set of short readings made up entirely of excerpts from the library's holdings. The readings are paired with projected images from Reanimation Library's image archive. Sequenced, unmediated fragments of found text and an accompanying stream of decontextualized images will provide a personalized, fractured, and incomplete portrait of the wide-ranging attitudes, ideologies, and visual systems contained within the collection. The event is in the casual, intimate environment of Franklin Street Works' upstairs gallery.
Beccone's performance is one of eight exhibition programs Franklin Street Works organized for the art space's current group exhibition Strange Invitation, which includes a Reanimation Library branch featuring dozens of locally sourced books and artworks by Brooklyn based artist Pradeep Dalal. The performance takes place in the Reanimation Library FSW branch and lends a first- hand, experiential perspective on the library's role as a generative source for making new artworks from the collection.
According to Beccone, these performances provide a platform to focus on texts found in the library's collection, explaining, "I started doing readings from texts found in the library because I've become increasingly interested in and engaged with the language in the collection. A lot of the information in the library is very dry, and unlikely to have ever been read aloud. Most of it was not intended to be, but I have started unearthing small fragments – from a sentence to a few paragraphs – that strike me as particularly unusual. The Incomplete Portrait is a kind of way to let the library speak for itself."
For more on Reanimation Library http://www.reanimationlibrary.org/