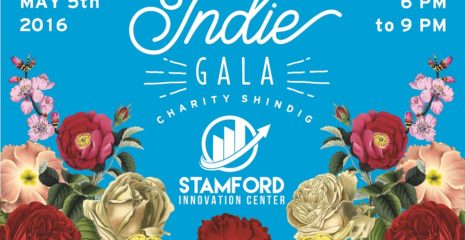 May 5, 6:00 PM–9:00 PM
The world of art and the technology community will come together at the Stamford Innovation Center on Thursday May 5 at 6pm for the third annual Indie Gala: Charity Shindig. This year Franklin Street Works, the award winning, not-for-profit art space and café in downtown Stamford is the beneficiary of the fundraiser.
The Indie Gala has affordable tickets that allow young people to come together to have fun and raise money for a good cause. Early sponsors include Media Crossing, Indeed and Westfair Publications, publisher of the Fairfield County Business Journal.
Billed as a "Small Batch Charity Shindig," the Indie Gala will feature:
Music by WPKN DJ Michelle Spinei

Margaritas by the folks at Cointreau

Tasting table by Two Roads Brewery

Taco Bar by Garibaldi Mexican Grill

"The Indie Alley," featuring gifts and goods from regional artisans
"As the major tenant of Stamford's Old Town Hall, we love to invite the public to celebrate this remarkable building and raise money for local causes," said Peter Propp, Chief Marketing Officer for Stamford Innovation Center. In 2014, the Innovation Center's gala raised funds for two charities, the CT Veterans Legal Center and Future5. In 2015, Fairfield's Operation Hope was the recipient.
"Franklin Street Works is delighted to be the beneficiary of this year's Indie Gala," said Bonnie Wattles, Executive Director. "We serve overlapping creative communities and are both working hard to help the Stamford region deliver on its promise of supporting the arts and welcoming new ideas and companies."
More information can be found at: stamfordicenter.com/indie