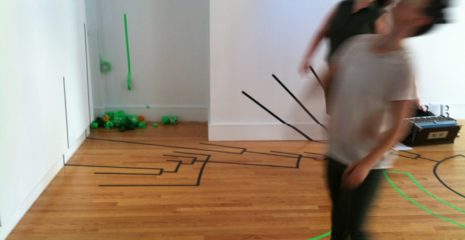 August 15, 6:30 PM–7:30 PM
Friday, August 15 at 6:30 pm Jen McGinn, iele paloumpis and Joanna Groom perform again in Franklin Street Works' upstairs gallery.
The piece, "not unordered and not resembling" was created by McGinn and paloumpis, who are Brooklyn-based choreographers. Originally performed on Saturday, June 28, at Franklin Street Works, the 40-minute piece provides a landscape for movement, revealing individual and collective experiences. This free, public performance is part of Franklin Street Works' current exhibition, "Showing the Work" curated by Sarah Fritchey, and is sponsored, in part, by the Andy Warhol Foundation for the Visual Arts. The evening will end with a post-performance discussion with the artists.
McGinn and paloumpis' movement practice includes choreography and improvisation as a way to explore experiences in the present moment. For their second performance of not unordered in not resembling, they are interested in investigating how the work and their dancing will change depending on audience, time, and the present experience. iele paloumpis explains, "through performance we learn a little bit more about what the work is doing each time we show it." Jen McGinn and iele paloumpis are also fascinated by the prospect of deepinging their performance via audience feedback during the post-performance Q & A.
Using recorded and live sound, and a taped map created specifically for Franklin Street Works' first floor gallery, the dance piece creates a nonlinear structure in which all ideas have the possibility of connecting to all other ideas. The taped floor pattern used by the performers is unique to the architecture of Franklin Street Works, making the choreography at this venue unlike any past or future performances. The site specificity of the work means it is the last chance to see this exact work live.
"not unordered in not resembling" will be performed for a second and final time by Jen McGinn, iele paloumpis and Joanna Groom in Franklin Street Works' upstairs gallery on Friday, August 15th at 6:30 pm.
ABOUT THE ARTISTS
Jen McGinn received her B.A. and M.F.A in Dance from Hollins University in partnership with the ADF. Her work and teaching practices have been shaped through residencies at Dickinson College, Hollins University, Booker High School Visual and Performing Arts Center, ADF, Brooklyn Arts Exchange, West Coast Civic Ballet, Dance Theater Workshop, nEW Festival, and the University of Maryland, among others. She currently co-directs the Summer Institute in Dance at the University of the Arts in addition to being a visiting lecturer, is a Dance Specialist for "Life Lines" Community Arts Project, is the Studio Manager at the Center for Performance Research and is a Movement Research AIR. Her interests include Cecchetti ballet, magical thinking, and logic problems. www.jenmcginndance.com
iele paloumpis is a trans*/queer dance artist, choreographer, and teacher navigating invisible disabilities and class disparities in NYC. At the center of their practice are ideas exploring body politics and artistic self-empowerment.