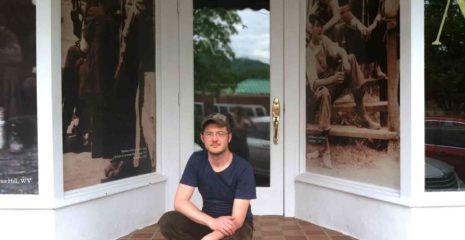 March 31, 2:00 PM–4:00 PM
With members working from the U.S., Canada, and Mexico, Justseeds Artist Cooperative operates both as a unified collaboration of similarly minded printmakers and as a loose collection of creative individuals with unique viewpoints and working methods. Artist Shaun Slifer, a longtime member of Justseeds, will give a community-inspired print demo at the Center for Contemporary Printmaking (Norwalk, CT) on Sunday, March 31 from 2-4pm. This is part of a weekend of Justseeds programming that also includes Slifer in conversation with creative director, Terri C Smith at Franklin Street Works on Saturday, March 31 (4-6pm). Justseeds is one of the exhibiting artist/activist collectives in Franklin Street Works' group exhibition, "Collective Action Archive: Redux," which is on view from February 9 – September 8, 2019.
At the event, which is sponsored by the Center for Contemporary Printmaking, Slifer will print posters that feature an LGBTQ+ positive phrase provided by Triangle Community Center (Norwalk, CT)! March 31 is also International Transgender Day of Visibility. What better way to support and celebrate our transgender siblings in the community while learning more about printmaking.
About Justseeds: Justseeds  is a decentralized, worker-owned cooperative of thirty artists throughout North America. Justseeds members primarily produce handmade prints and publications which are distributed through their website and at conferences and events related to social and environmental movements. Members also work individually as graphic designers for and within a broad swath of social and environmental activist causes in the U.S., Canada, and Mexico. As a collective body, Justseeds has produced several gallery exhibitions of both print work and collaborative sculptural installation. Justseeds was founded in 1998 by member Josh MacPhee as an internet-based store and distribution point for graphics that MacPhee, his friends, and associated groups were producing.Following the 2006 collapse of Clamor magazine, which was then handling Justseeds mail-order distribution, MacPhee sought to organize several artists with which he already had a working relationship into a cooperative entity that would expand to include other artists with equal stakes in the new project. Originally launched as Justseeds/Visual Resistance Collective in 2007, the name has since been shortened to Justseeds Artists' Cooperative. Justseeds ran a distribution center, consisting of their online store and an internal archive, from the basement of a private home in Portland, Oregon from 2007 until 2010. In May 2010, operations were moved to Pittsburgh, Pennsylvania.
About the Center for Contemporary Printmaking: The Center for Contemporary Printmaking (CCP) is a non-profit organization dedicated to the art of the print: intaglio, lithography, monotype, silkscreen, woodblock printing, paper works, book arts, and digital arts. CCP is a unique cultural resource, a place to discover, to experiment, to learn. The entire spectrum of printmaking arts is here to be explored through workshops, edition printing with master printers, exhibitions, community programs, and an Artist-in-Residence Program.
CCP Access information forthcoming – in the meantime, for more on access call or email CCP: 203.899.7999  /  info@contemprints.org