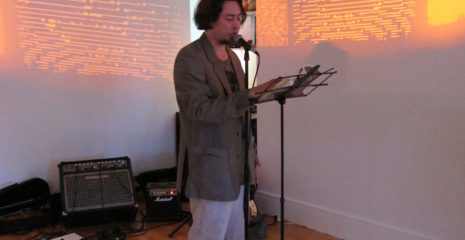 September 20, 5:30 PM–7:00 PM
Franklin Street Works is proud to present an evening of music and readings with Kent Evans, author and multi-platform artist. This free public event is Thursday, September 20, from 5:30 – 7:00 pm and features Kent Evan's forthcoming novel A Crash Course on the Anatomy of Robots, which releases on September 17, 2012 (Pangea Books).
Franklin Street Works is excited to be one of the first venues to host Evans after the release of his highly praised novel in this unique event that includes the author reading and related live music performances. Kent Evans will play guitar, Laura Wilson will be on violin, and Andrew Trudeau will join in with multiple instruments. While at the event audiences can also enjoy Franklin Street Work's current group show, "VHS The Exhibition"! Curated by Rebecca Cleman, the exhibition explores VHS as a tool and inspiration for artistic experimentation, with a heavy dose of ephemera from the '80s analogue culture.
Kent Evan's A Crash Course on the Anatomy of Robots is a gripping action-adventure novel inspired by personal events in the author's life. Evan's explains, "The books is sort of a love song to being an artist, travel, the death of my parents, and disastrous relationships." The main character, Damien Wood, is a young man whose lived his life as a mere robot, hurling himself with abandon from place to place and from one hollow commitment to another. It is only after a series of tragedies that Damien's full spectrum of emotions start to emerge, which sends him to Asia on a dark odyssey of self-revelation. The book has been widely praised, including Inés Ferrero Cándenas observation, "Crash Course travels on the wings of poetry, autobiography, relationships and humor to cross-examine modern reality and cultural rebellion." Kent Evans also collaborated with musicians for an original soundtrack accompanying the book, available now on iTunes.
MORE: Video Footage of his performance on Vimeo, It's Relevant Video Story on Kent Evans, and Kent's Website.
ABOUT KENT EVANS
Half Cantonese and half UK, Kent Evans was born in New York City in 1975 and grew up between New York, Connecticut and Rhode Island. After graduating from New York University, he began traveling extensively throughout North America, Europe, Asia and the Caribbean. He is the author of Malas Ondas: Lime, Sand Sex and Salsa in the land of conquistadors, a semi-autobiographical novel about self-destruction throughout Latin America and finding love.  A fixture on the spoken word and experimental art scene in the 90's, the artist has performed at such venues as Madison Square Garden Theatre and Académie Beaux Arts in Paris. His creative non-fiction and opinion pieces have appeared in numerous national pop-culture and literary zines and publications.