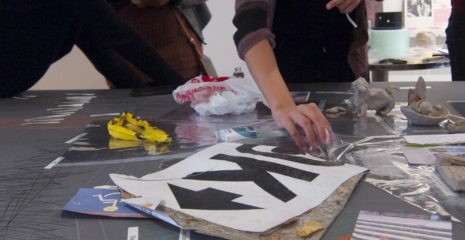 October 29, 10:00 AM–5:00 PM
"Living Memorial" is a community engagement with artists Floor Grootenhuis and Erin Turner that explores how communities contribute to shared space and memory, aiming to create a living archive around this theme. Two sessions of the workshop will take place Saturday, October 29 from 10:30 am -1:30pm and from 2:00 – 5:00. Groups will meet at Franklin Street Works. To sign up email info@franklinstreetworks.org.
The event is organized by Franklin Street Works and Social Practice Queens MFA program at Queens College in collaboration with Mill River Park.  This community event leads up to Franklin Street Works' upcoming benefit part "Art Activism: Celebrating Socially Conscious Art," and the event's documentation, collaborative map, and clay objects will become part of the party's on-site exhibition.
For "Living Memorial" people in the Stamford area are invited join artists Grootenhuis and Turner in two three-hour sessions that includes the following activities:
Silent observation of the surrounding spaces of Franklin Street Works, Mill River Park and the walk between the two — both places are historic and have been restored, lending them contemporary and historic relevance.

A discussion with Stamford historian(s) and invited individuals with an expertise in urban planning and environmental practices.

A group conversation prompted by artists Grootenhuis and Turner that asks how the community views the landscape, the body in the landscape, and how communities contribute to a shared space and memory.

A sharing of photos and narratives brought by participants to the collaboration.

(Session 1) the group creation of a map of the explored areas that includes narratives, photographs and ephemera. This creative cartographic exercise will be examined (after the construction of the map) as a contrast to actual maps of the area, highlighting how the input of our creative and emotional selves influences the conceptualization of the landscape we exist in it. (Session 2) The creation of clay objects that relate to place, memory, observation and aspiration.
Grootenhuis and Turner believe that to understand site, one must understand the seriality of losses and gains, as they relate to the occupation and dissolution of an ever-evolving landscape. They look forward to collaborating with the community in Stamford to better understand their conceptualization of place and space, and the historical realizations that come to fruition! The artists plan to build an online platform where people can contribute freely and access this collective living archive.
To find out more details or to RSVP please email terri@franklinstreetworks.org. Drop-ins welcome if space is available.
ABOUT THE ARTISTS
Born in Nairobi, Kenya, Floor Grootenhuis is a New York City-based artist. Her graduate studies in human geography at the University of Amsterdam opened up her exploration of how people, cultures and connections coexist across the world. After a decade of working in developing countries and humanitarian response she started creating art based on her experiences. Her current interest involves collaborative and participatory installations made from recycled, everyday objects and simple materials. Her art is inspired by the places in which she has worked and lived, ranging from Sudan, Ethiopia, Somalia and Afghanistan to Barcelona, Jakarta and now New York City. Actively connecting to people and the everyday is a core theme in her work. Her works have been shown at the National Academy Museum in New York, FiveMyles Gallery in Brooklyn, Centre de Cultura Contemporània in Barcelona, Jakarta, and the Clio Art Fair in Chelsea. Floor's pieces live in private collections in Kenya, South Africa, Australia, USA, Thailand, Indonesia and the Netherlands. www.fgrasa.com
Erin Turner is a site-specific installation artist who was born and raised in Tulsa, Oklahoma. Inspired by travel, landscape, and weather, she has installed her work across the globe in locations such as the Grand Canyon, the Cahokia Mounds, the Mohave Desert, Moab, Chicago, Kansas City, San Francisco, New York, Oklahoma, India, Thailand, Saint Guilhem le Desert, The Netherlands, and Argentina. She is interested in the examination of the concept of landscape as it relates to the symbolic, the cultural, and the historic. Her work ranges from sculpture and light, installation, painting, photography, video, and collaborative dance and performance. Interconnectivity, ecology, and sustainability are at the basis of her current investigations.
She has attended Pratt Institute, Escola de la Llotja, Barcelona, The University of Tulsa, and La Universidad del Museo Social Argentino, Buenos Aires, with emphasis in the visual arts and arts education with prison and post-prison populations. She has worked with a variety of organizations and contemporary art centers and festivals such as Tierraviva NGO in Argentina, CODA Museum in The Netherlands, SCOPE International Gallery Festival, NYC, The Tulsa Performing Arts Center, The Living Arts of Tulsa, Tanguey Studio France, This Land Press, Cain's Ballroom, and the Tulsa Children's Museum. She is currently based out of Brooklyn, NY. www.eturnerinstal.com
ABOUT SOCIAL PRACTICE QUEENS
Social Practice Queens (SPQ) is a unique MFA concentration bringing together the resources of an academic research institution, Queens College (City University of New York: CUNY), with the long-standing community-based activism of the Queens Museum.
The new MFA concentration in social practice integrates studio work with social, tactical, interventionist and cooperative forms. SPQ's goal is to initiate interdisciplinary projects with real world outcomes rooted in CUNY's rigorous departmental offerings (e.g.: urban studies, environmental science, public policy, experimental pedagogy, social theory) in tandem with the Queens Museum's ongoing community-based activities.
ABOUT MILL RIVER PARK
Mill River Park Collaborative is a 501(c)3 non-profit whose mission is to create and sustain a world-class park in Downtown Stamford. The board of the Collaborative includes representation from the City of Stamford, Stamford Partnership, Downtown Special Services District, the West Side and Downtown communities, Urban Redevelopment Commission, the corporate community and Stamford at large. The Collaborative was established as a public/private partnership that would "provide collaborative leadership in creating and sustaining a successful Mill River Park."